{ICAFIS-GRAISEA} If the pandemic drag out longer, what will happen with businesses"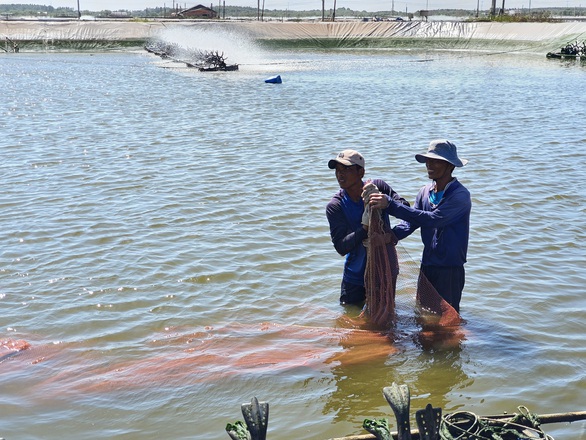 Shrimp farmers in the Mekong Delta are facing a lot of difficulties due to the impact of social distancing to prevent the COVID-19 epidemic – photo Chi Quoc
On September 1, the Directorate of Fisheries coordinated with the ICAFIS (Vietnam Fisheries Societies) to organize the "VietShrimp Forum 2021 online - Solutions to remove difficulties in the shrimp industry during the COVID-19 epidemic period" with nearly 1,000 participating points.
Mr. Chau Cong Bang, deputy director of the Department of Agriculture and Rural Development (DARD) in Ca Mau province, said the province had 38 seafood processing factories. Production costs were already high, now were doing "3 on the spot", businesses had to cover accommodation anhd travelling expenses for everyone, made costs increases, leading to a decrease in the price of purchased shrimp. "If the pandemic drag out longer, I don't know how much longer businesses can afford, it's very difficult"
Representative of Soc Trang Province's Department of Agriculture and Rural Development said that shrimp prices were low, the province could mobilize farmer to raise shrimp to achieve the set plan, but the economic efficiency was not achieved. The province proposed need to more effective solutions in managing aqua feed prices, which were constantly increasing, and considered reduce electricity bills for shrimp farming households from 10% to 30% in period between July 2021 and June 2022.
Mr. Vo Quan Huy - Chairman of My Thanh Shrimp Association (Soc Trang) - said that the policy of social distancing many times and many places had caused difficulties for shrimp farmers, not to mention many localities be overdoing it led farmers lost a lot. Mr. Huy proposed some solutions such as facilitated inter-hamlet and inter-commune travel for those who received 1 dose of vaccine after 15 days and inter-district and inter-provincial travel for those who received 2 injections after 15 days; studied to reopen wholesale markets because that was channel consumes about 10% of the shrimp industry…
Mr. Truong Dinh Hoe - General Secretary of the Vietnam Association of Seafood Exporters and Producers - compared the current situation of seafood production liked as in the context of "wartime economy", everything had to be prioritized to anti-epidemic, so businesses need to share. However, He said that in the coming time, the situation would change when the vaccine had been covered to a certain extent and the social distance had lasted too long, so it was necessary to reconsider the organization of production in more suitable way
Mr. Hoe suggested that the Ministry of Agriculture and Rural Development should promote localities to be more specific in seafood production and processing, such as what should be done for the province with the main source of income based on the aquaculture, or what should be done for the province with the mainly income based on pangasius farming…In addition, the regulation of "1 route, 2 destinations" needed to businesses was voluntary and self-responsible, not by was be registering with the authorities and then were waiting for approval. If not approved, the business would be "locked", had not allowed to produce, that view was "so extreme".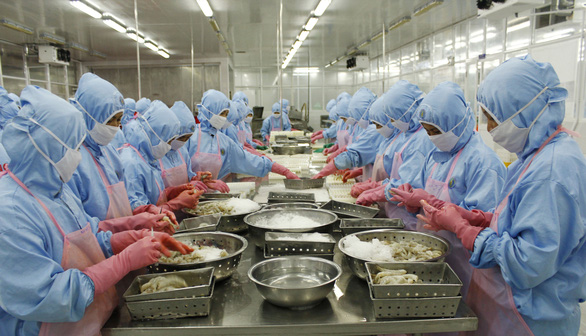 Shrimp processing enterprises in the Mekong Delta are facing difficulties because they are producing "3 on the spot" and are worrying about lack of materials in the last months of 2021 when people afraid to release the new crop.
- photo: Chi Quoc
According to the Directorate of Fisheries, the harvesting and consumption of shrimp are facing many difficulties such as: difficult to call traders or factories due to restrictions on travel; the price of commercial shrimp is decreasing; lack of people and means of transport in the stage of purchasing and supplying (seed, food aqua, drugs, chemicals, preparations) because the requirement to control people and vehicles from epidemic areas must be isolated for 14 to 21 days ; some shrimp processing factories have to stop to work or have to do "3 on the spot", so the capacity is reduced
In the first 8 months of 2021, shrimp production in the Mekong Delta increased by 1%, but the price of commercial shrimp decreased from 10,000 VND/kg to 20,000 VND/kg compared to the same period in 2020. Shrimp stocking activities are decreasing because of the fear mentality of farmers.
Chi Quoc - Tuoitre online News
https://tuoitre.vn/neu-dich-keo-dai-them-nua-khong-biet-doanh-nghiep-kha...