Tra Vinh (VNS/VNA) - Three clam farming cooperatives in the Mekong Delta of Tra Vinh with a total area of 433ha have been awarded the Aquaculture Stewardship Council quality certification.

They are the Thanh Cong Cooperative in Cau Ngang district's My Long Nam commune, Tien Thanh Clam Cooperative in Chau Thanh district's Long Hoa commune and Long Thanh Agriculture Cooperative also in Long Hoa.

The province Department of Agriculture and Rural Development and the International Collaborating Centre for Aquaculture and Fisheries Sustainability (ICAFIS) held a ceremony to hand over the certificates to the cooperatives last week.

Also at the ceremony, the Ben Tre Seafood Joint Stock Company and the Hung Truong Phat Aquamarine Product Joint Stock Company in Ben Tre province and the Lenger Seafoods Vietnam Company Limited in Nam Dinh province signed an MoU to develop value chains for clam farming with the three cooperatives, the province Fisheries Sub-department and ICAFIS.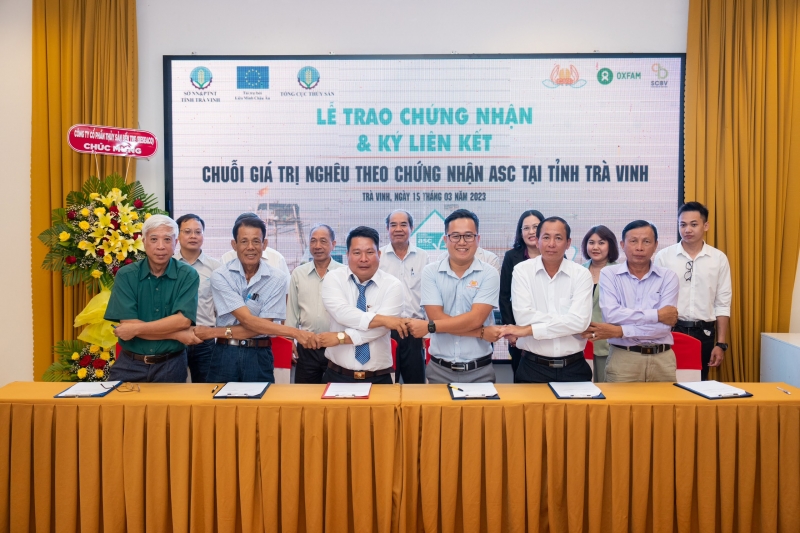 Tran Van Dung, deputy director of the department, said the ASC certifies responsibly farmed seafood that minimises negative impacts on the environment and communities and proper implementation of labour regulations.

Products certified as meeting ASC standards are preferred in many markets, especially the EU, he said.

The Mekong Delta province is only the third clam farming area in the world to get the certification, he said.

It would help the province export its clams, enhance its brand and add value, he pointed out.

With a coastline of 65 kilometres, the province has excellent conditions for breeding clams in alluvial grounds and large estuaries along coastal areas.

But its clam farming has faced difficulties in the past because of the small scale and lack of brand name, processing facilities and steady demand.

It has seven clam breeding cooperatives which farm a total of 1,000ha and have an annual output of 4,000 - 6,000 tonnes.

It has identified clams as a key aquaculture species that offers high value, helps create jobs and improves incomes, especially of poor people.

It plans to increase the total clam farming area to 3,300ha by 2030./.
Soure: VnExpress