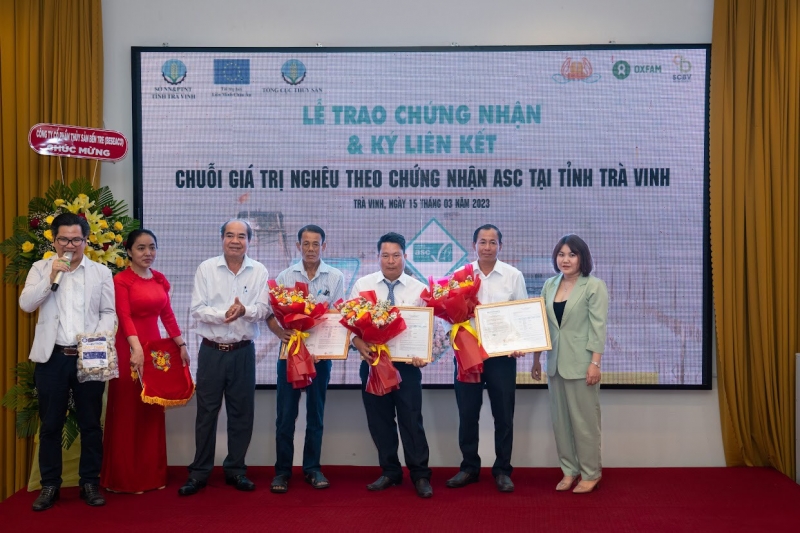 On March 15, Tra Vinh Department of Agriculture and Rural Development, the International Collaborating Centre for Aquaculture and Fisheries Sustainability (ICAFIS), and the Vietnam Chamber of Commerce and Industry) held an awarding ceremony of ASC certification and signing of the clam value chain in Tra Vinh province.
According to ICAFIS's representative, our country has a potential coastline of over 3,260 km with many sandy beaches and favorable habitats for clams to develop and become a national strategic product. Vietnam has exported bivalve mollusks to 56 markets. The six largest import markets of Vietnam's bivalve mollusks are the EU, the US, Japan, Korea, ASEAN, and China. The exports to Korea increased rapidly, exports to ASEAN increased slightly, but exports to China decreased.
Although domestic clam farming has been developed for a long time, it focuses mainly on exploiting semi-diurnal tidal flats because it is convenient to monitor and harvest. To boost the clam industry, it is necessary to develop certification according to ASC standards. This international certification is for responsibly raised seafood, minimizing adverse impacts on the environment, ecosystems, and communities, and ensuring reasonable labor regulations.
According to Dr. Le Thanh Luu, Director of ICAFIS, modern mechanized technology convenient for harvesting and monitoring deepwater clam farming will open up a large area for clam farming in Vietnam, primarily white clams Meretrix Lyrata, have great competitiveness in the world market because we have developed farming in most of the coastal provinces and increasingly improved production technology. Vietnamese white clams can process more products than other clams in the world. Deepwater clam farming is an excellent opportunity for Vietnam to expand its area and increase production.
The cooperative representative was awarded the ASC certificate, the Director of Long Thanh Agricultural Cooperative (Chau Thanh district, Tra Vinh province) Huynh Van Hoang expressed: "After achieving the ASC certification, it has opened up many great opportunities for the cooperative. The certified clam production and care process is more secure and professional, meeting the needs of domestic and international markets. Thereby helping people in the cooperative have many opportunities to expand the market and attract many businesses to buy goods, thereby helping the cooperative to actively output in production and increase the value of clam products not only in the country but international".
At the ceremony, Mr. Tran Van Dung, Deputy Director of Tra Vinh Department of Agriculture and Rural Development, said that the clam industry currently faces some difficulties, such as insufficient natural seed, reduced seed quality; alluvial land has not been officially allocated and is not stable; the product distribution network is not well organized and ineffective; lack of market information and the possibility of trade promotion is not high. At the same time, clams are filter feeders, so there are certain risks; Currently, there is no local clam processing facility...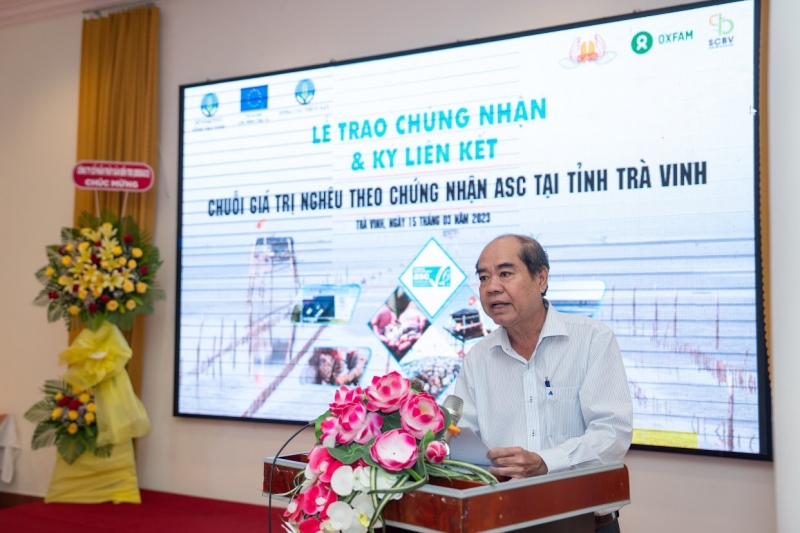 To develop the white clam industry in Tra Vinh in a long-term direction, the province has transferred the technology of artificial clam seed production and rearing to the cooperative and strengthened monitoring and warning to identify safe farming areas. Besides, the province has also improved trade promotion activities, market research, and providing market information for entities. Fisheries departments have actively supported market information, including prices, output, and demand, through the mass media. At the same time, strengthen linkages so that cooperatives and farmers have a stable and reasonable supply of seeds and consumption.
"We are honored to be awarded the ASC certificate. With this success, the Department of Agriculture and Rural Development of Tra Vinh province suggested that clam farming households try harder together to maintain and develop the clam profession in compliance with ASC certification for sustainable farming. Besides, contributing to the development of clams to become a national brand," shared Mr. Tran Thanh Dung, Deputy Director of Tra Vinh Provincial Department of Agriculture and Rural Development.
"Vietnam has over 41,500 hectares (in 2019) of mollusk farming with an output of about 265,000 tons/year (clams 179,000 tons/year). Vietnam's mollusk products are exported to 50 markets worldwide, including some main markets such as the EU, US, Japan, Malaysia, Mexico, and Australia..., creating jobs for about 200,000 workers. By 2023, the export turnover of clams has exceeded US$ 100 million," said Dr. Le Thanh Luu, Director of ICAFIS.
Source: Vietnam Agricultural Newspaper
Authors: Ho Thao - Le Hoang Vu, Translated by Ha Phuc