The forum was held on February 23, 2020 in Can Tho City, attracted the participation of hundreds of delegates representing the Department of Agriculture and Rural Development of 06 project provinces of Soc Trang, Bac Lieu, Ca Mau, Tien Giang, Ben Tre and Tra Vinh; representatives of cooperatives / subcooperatives and NGOs: OXFAM, WWF, SNV, VCCI, MCD, ICAFIS, GEF ...
The forum was organized by the Projects Management Board of SusV + SCBV + GRAISEA, to scaling up achievements, building capacity, sharing achievements and difficulties of the last 5-year roadmap. In particular, going into sharing about the success of aquaculture cooperatives; discuss about consolidating and scaling solutions in the coming time.
Mr. Dinh Xuan Lap, Deputy Director of International Collaborating Centre for Aquaculture and Fishieres Sustainability (ICAFIS), spoke at the opening of the forum.
According to the Organizing Committee, within the framework of the program implementation of projects: Gender Transformative and Responsible Agribusiness Investments in South-East Asia (GRAISEA); Sustainable and equitable shrimp production and value chain development in Vietnam (SusV); Inclusive and Sustainable Clam and Bamboo Value Chain Development in Vietnam (SCBV), funded by European Union, Embassy of Sweden, OXFAM in Vietnam, ICAFIS has collaborated with DARD in six provinces in the Mekong Delta region: Soc Trang, Bac Lieu, Ca Mau, Tien Giang, Ben Tre and Tra Vinh to support capacity building, product production, chain link, connecting the market to nearly 70 cooperatives / subcooperatives and achieving significant achievements, contributing to increase income, stabilize livelihoods, increase product value, contribute to increase the brand and image of Vietnam's seafood products on the domestic and international market.
Members of cooperatives discussed at forum
As a result, the income of workers as well as members of cooperatives / subcooperatives has been improved, created jobs and ensured social security in the provinces of the Mekong Delta. Notably, the number of agricultural cooperatives producing on the value chain has increased, which is gradually becoming the optimal mode of production for sustainable development.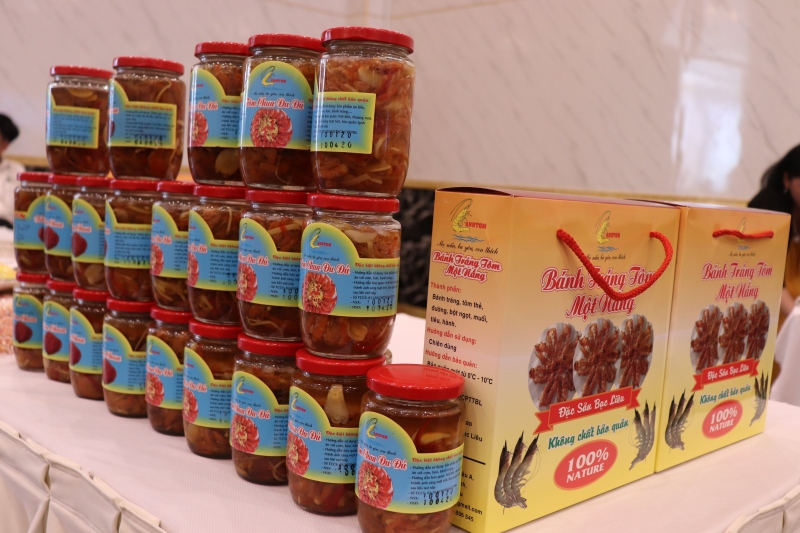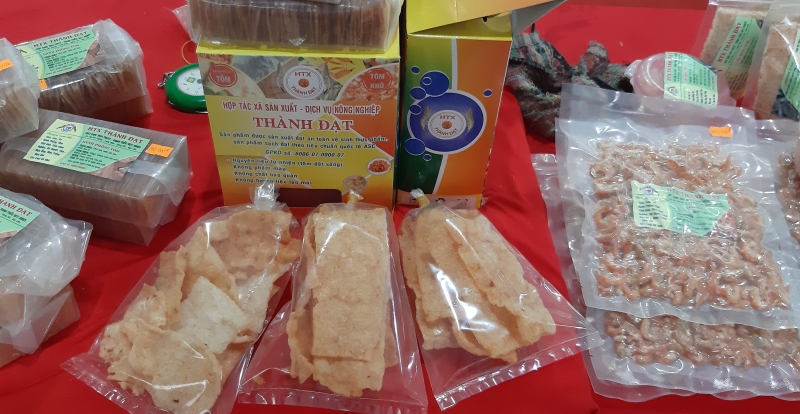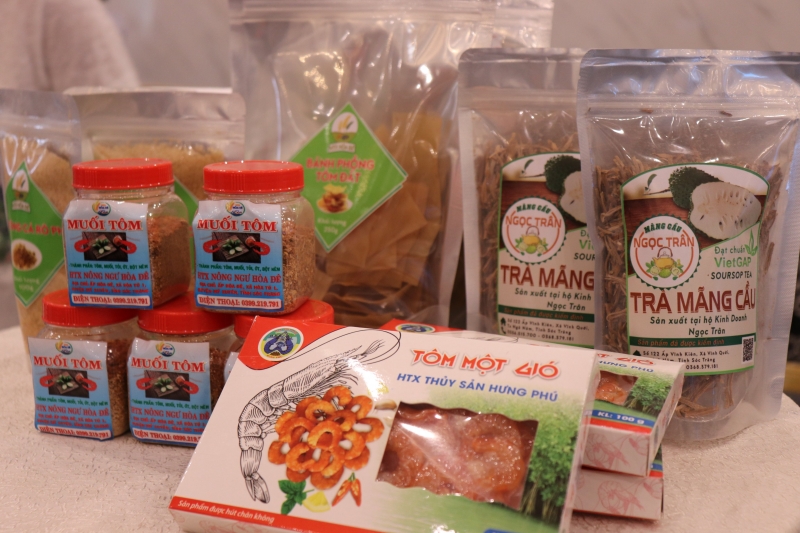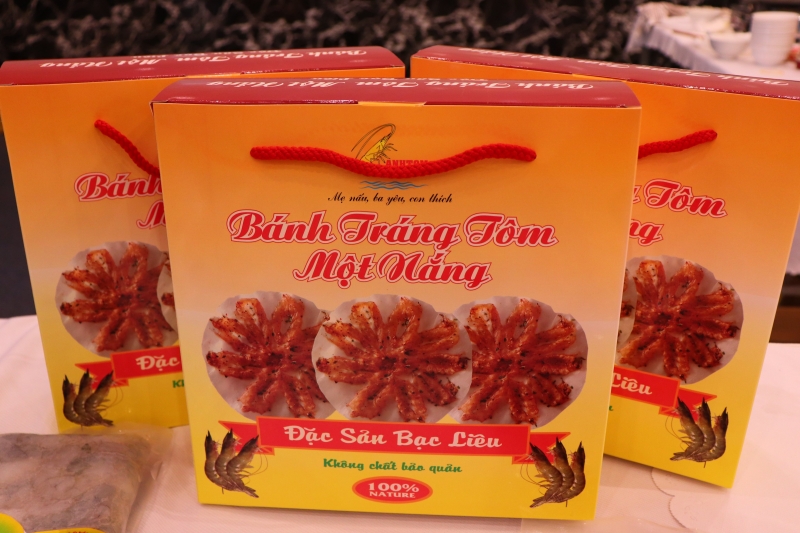 The value-added products of the co-operatives have been improved in packaging and labeling under the support and promotion of the projects.
Sharing at the forum, Mr. Mai Van Dau - Toan Thang Seafood Cooperative, Vinh Chau, Soc Trang said: Loans from banks to deploy production and business have been eased, but people have unsecured loans and they aren't enough conditions, so they need to get loans through unsecured loans from bank credit institutions. Although this is still a problem, but thanks to the Soc Trang Cooperative Union's loan of VND 500 million with an interest rate of 0.5% / month as bait capital, along with little the own capital of the members, actions being cautious and prestigious, the input (breed and feed) were supported by partners in the form of overlapping, so the cooperative was successful, in 2019, the cooperative would earn over 700 million dong.
Ms. Huynh Thi Ly, representing Hoa De Cooperative, Hoa Tu 1 Commune, My Xuyen District, Soc Trang Province said: The cooperative has 83 hectares of arable land under the model of shrimp rice, cooperative's capital was created by "equitization", currently there are 51 shares, each of which contributes 5 million and is divided with dividends (quarterly dividends). Under the ASC certified organic farming model, last year produced over 60 tons of rice, 170 tons of leg-white shrimp and black tiger shrimp and more than 50 tons of tilapia. In addition to providing products to the market, the cooperative also organizes processing of shrimp chips, dried boneless fishes which created more jobs. In this processing segment, the turnover is nearly 100 million each month.
Mr. Nguyen Van Lam, Executive Director of Cai Bat Seafood Cooperative, Ca Mau Province, spoke at the forum
Ms. Mai Thi Thuy Trang, director of Tai Thinh Phat Cooperative, is engaged in the production of ecological aquatic products at Nam Can, Ca Mau province. According to her share, because of want to make the products of Nam Can countryside such as shrimp, crab, seabass become quality products to supply to restaurants, foreign customers in Ho Chi Minh City. She retired from Knowledge Centered Support (KCS) at the Samsung Group's branch in Thu Duc with a salary of nearly 30 million dong / month, and came to her hometown create a Farm for aquaculture production and construction of Cooperative Tai Thinh Phat. In order to overcome the initial difficulties, she had to use a small capital from insurance money. Now with over 62 hectares of water surface, Mrs. Trang's Farm has created fresh quality products such as hibernating shrimp, organic shrimp, seabass, chip shrimp and fish ...; According to the sharing, Tai Thinh Phat Cooperative reaches 700 million / month from products supplied to order.
Although there have been certain successes, there are still difficulties that need to be further supported and removed, especially risks in production and business such as epidemics, product quality management, lack of capital creation added value…
Mr. Tran Quang Can, Hung Phu Co-operative, An Thach 3 Commune, Cu Lao Dung District, Soc Trang province shared, wondering if the members can borrow money through mobilizing capital from the cooperative, or being lent by the cooperative alliance. But, there is no reserve fund to support, unfortunately If production and business ineffective damage, it will be difficult to reinvest.
And Mr. Nguyen Van Lam, Executive Director of Cai Bat Cooperative, Ca Mau province, said that the market is decided by consumers. But in order to consumers to support, it is necessary to strictly control the quality of related agencies. Because, in fact, branded products often is faked origin, which farmers, cooperative members and cooperatives can hardly prevent.
Commenting from the locality, Mr. Huynh Quoc Khoi - Director of Bac Lieu Agricultural Extension Center said that in order to improve the value chain associated with sustainable agricultural and fishery production, the advertise stage should be considered as important, at the same time must strengthen the administration. In addition, the capital must also be active, but most of the co-operative still lacks capital. So to accompany the development of cooperatives, the need for accompanying policies and mechanisms, attract young people to participate in cooperative.
Van Ca- Light & Life