On December 15, 2020, the Department of Agriculture and Rural Development of Nam Dinh province (the People's Committee of Nam Dinh province) in coordination with the Directorate of Fisheries (Ministry of Agriculture and Rural Development) held the announcement ceremony First ASC certification in the world for white clam in Vietnam - species Meretrix Lyrata.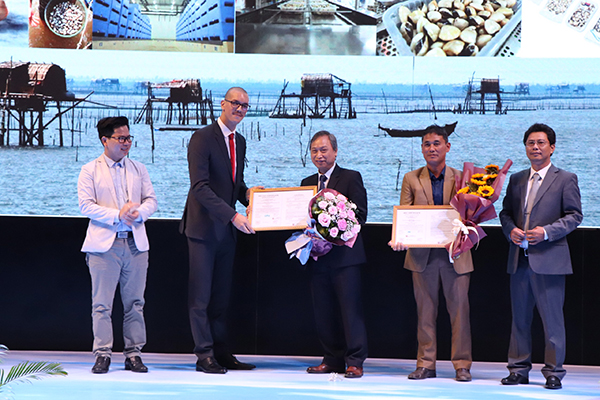 Attending the ceremony were Mr. Phung Duc Tien Deputy Minister of Agriculture and Rural Development, Mr.Tran Dinh Luan Director General of Fisheries , Mr. Ta Quang Ngoc (Former Minister of Fisheries), Mr. Nguyen Phung Hoan ( Vice Chairman of Nam Dinh Provincial People's Committee), Mr. Le Thanh Luu (Director of International Collaborating Centre for Aquaculture and Fisheries Sustainbility), Mr. Nguyen Ho Nguyen (General Director of Lenger Fisheries Vietnam Co., Ltd.) and leaders of Aquaculture Department (Directorate of Fisheries), Institute of Fisheries Economy and Planning, Department of International Cooperation (Ministry of Agriculture and Rural Development), Department of Agro-Forest-Fisheries Quality Control, Department of Agricultural Product Processing and Market Development, Department of Agriculture and Rural Development of Nam Dinh province, National Agricultural Extension Center, Nam Dinh Television Station; And representatives of clam farming households.
At the ceremony, Deputy Minister Mr. Phung Duc Tien expressed his honor and pride when Vietnamese seafood products in general and clam in particular have achieved great results in the economic development conditions of Vietnam is facing many disadvantages (Covid-19 epidemic, storms and floods, saline intrusion, African swine fever virus ...), in 2020, fisheries are estimated at 8.45-8.5 million tons, valued at $ 8.6 billion. According to the Deputy Minister, this was a difficult period, challenging but full of marks. He believes that Vietnam will apply advanced science and technology in the world and take very quick steps. The ministry leaders were very impressed Nam Dinh provincal because this is the first province recognized as a New Rural, with many successful and pervasive models. In his opinion, aquaculture sector needs to perform synchronously stages (from seed production, aquafeed, nurturing ...). "Tomorrow is starting from today. Everything must have a clear plan, not just shouting slogans and then leaving it. When you do what you do, you must be determined to complete it". Deputy Minister Phung Duc Tien directed the Directorate of Fisheries and other units of the Ministry to coordinate with the Departments and businesses to well perform their tasks. Aquatic seed production technology (including clam seed production) will be prioritized and concentrated.
White clam farming (Meretrix Lyrata)
In Vietnam, Meretrix Lyrata farming originates from the Mekong Delta region and has been researched for artificial seed production and developed in most of the coastal provinces. Over the past years, the clam culture has achieved strong developments in terms of cultured area and production as well as the level of intensification, becoming one of the four main aquatic species of Vietnam (along with shrimp, pangasius, tilapia) and are popularing in many markets around the world, such as Europe, America, Japan, Malaysia, Australia ... In 2019, the farming area of ​​clam and bivalve mollusks were estimated about 41,200 ha with a total output of nearly 370,000 tons, export turnover reached 93,642 million USD, of which clam products accounted for 63 million USD. When clam farming was developed, the coastal tidal area was exploited effectively and created jobs for about 200,000 labours.
However, the clam industry has been facing many difficulties and challenges recently. Especially technical barriers, quarantine issues, product traceability and the increasing requirements of importing countries with dense certification systems. In the context of global integration, Vietnam has set a requirement for sustainable development, manufacturing towards achieving international certifications, diversifying products and promoting organizational programs and projects value chain production to enhance the value and brand name of Vietnam's clam industry, especially when Vietnam has joined many Free Trade Agreements (FTAs).
Vietnam has joined 13 FTAs ​​and is negotiating 3 FTAs
Free Trade Agreements (FTAs) have become a common direction in the world when globalization is going on; This is also a solution chosen by many countries when the agreements reached in the framework of the World Trade Organization (WTO) have not enough reliable. The number of FTAs increased rapidly, according to WTO statistics, as of January 17, 202, total of 303 agreements were in effect out of 483 agreements were notified to them. Vietnam has 13 FTAs ​​in effect out and is negotiating 03 ones. Among the 13 FTAs ​​that have already taken effect and are being implemented, the Comprehensive and Progressive Agreement for Trans-Pacific Partnership (CPTPP) is the first new generation of FTA that Vietnam has joined, the second one is the European-Vietnam Free Trade Agreement (EVFTA).
The CPTPP are 11 member countries: Australia, Brunei, Canada, Chile, Japan, Malaysia, Mexico, New Zealand, Peru, Singapore, and Vietnam. The Agreement was signed on 8 March 2018 in the city of Santiago (Chile) and officially entered into force on 30 December 2018 for the group of 6 countries where were completed ratification procedures include Mexico, Japan, Singapore, New Zealand, Canada, and Australia. In Vietnam, the Comprehensive officially took effect on January 14, 2019.
The European - Vietnam Free Trade Agreement (EVFTA) was started and ended the negotiation when increasingly prosperous bilateral relations between Vietnam and the EU, especially in the economic - commerce. The EU is currently one of the leading trade partners of Vietnam with two-way turnover in 2019 reaching 56.45 billion USD, of which exports reached 41.5 billion USD, imports from the EU reached 14.9 billion USD. EVFTA is a comprehensive, high-quality agreement, in accordance with the provisions of the World Trade Organization (WTO), ensuring a balance of interests for both Vietnam and the EU, in which also paying attention to differences on the level of development between the two sides. EVFTA will be a huge boost to Vietnam's exports, helping to diversify markets and export products (especially agricultural and aquatic products as well as Vietnamese products that have many competitive advantages). In strategy, the EVFTA negotiation and implementation has sent a positive message about Vietnam's determination to promote deep integration into the world economy when the political and economic situation are going many complicate and unpredictable. On June 8, 2020, the National Assembly of Vietnam ratified the EVFTA.
Agreements such as CPTPP, EVFTA ... have opened up many trade opportunities for the fisheries sector in general and the clam industry in particular. In order to capture opportunities, as well as enlarge the market, the practice of sustainable production and chain linkage is always the top priority of seafood enterprises and also the general trend of the market. According to statistics, the fisheries sector contributes more than 3% of the total gross domestic product (GDP) each year. Vietnam's seafood products have been present in many countries and regions around the world. In which, clam is one of the four key aquaculture products of Vietnam. In Nam Dinh, clam was identified as the staple commodity of province.
Clam value chain ASC in Nam Dinh province
The Nam Dinh currently has 72 km of coastline, 03 large estuaries flowing into the sea, creating a large intertidal zone over tens of thousands of hectares, the bottom matter is mainly muddy sand, high mineral salt content, the diurnal tide is stable, drying time from 5 to 8 hours/day. Those is a favourable condition to develop mollusc culture, especially for clam (Ben Tre clam and oil clam). Over the past years, Nam Dinh province has paid attention and developed of clam farming in some coastal estuarine communes with a total area of ​​about 2,200 ha; In which, concentrated in Giao Thuy district about 1,600 ha and Nghia Hung district about 600 ha. Clam has been identified as one of the key species of the province's Agricultural Restructuring Project in the direction of Enhancing Value Added and Sustainable Development.
Every year, the output of commercial clam is over 35,000 tons. Nam Dinh clam is consumed by fresh export and supply to processing factories - specifically, exporting nearly 70% of output; consuming in supermarkets and domestic market accounts for about 30%. Clam farming has created jobs, raised incomes and enriched many coastal people. The main cultured species are white clam Meretrix Lyrata (accounting for 85%), indigenous oil clam and other species (accounting for 15%). In the context of globalization and international economic integration, the sector has reorganized production in the value chain, aiming to obtain international certifications and diversify products.
Towards business with small-scale producers, contributing to enhancing the value and branding of the clam in Nam Dinh province in particular and Vietnamese clam in general, with the support of the International Collaborating Centre for Aquaculture and Fisheries Sustainability Fishing (ICAFIS), Center for Research Resources and Rural Development (RECERD) and local agencies, departments, People's Committee provincial, Department of Agriculture and Rural Development of Nam Dinh province cooperated with Lenger Seafood Vietnam Co., Ltd. in implement the project "The ASC clam value chain in Nam Dinh province - Lenger Seafood Vietnam ".
ASC certification for the Meretrix Lyrata
The ASC certification is the most stringent international standard for sustainable aquaculture which established by WWF and IDH in 2010. This set of standards is based on four main foundations: Environment, Society, Animal welfare, Food safety and hygiene. The ASC certification currently has 8 sets of standards for 12 aquaculture species, including clam. Now, it is estimated that more than 700 farms/culture regions from more than 40 countries around the world have achieved ASC Certification for farmed products (Which in Asia, Europe, and South America, North America, Australia and Africa). ASC Certified products are favored by consumers around the world, especially in Europe.
In Mr. Dinh Xuan Lap opinion - Deputy Director of International Collaborating Centre for Aquaculture and Fisheries Sustainability (ICAFIS): According to survey by ICAFIS show that ASC certification is preferred by many clam collectors and choose to order for markets in Europe, America, Japan and high-class supermarkets in China. The Japanese market also has a special priority for seafood products sustainable certified as ASC, MSC at the 2020 Summer Olympics (to be held in 2021). This is a great opportunity for Vietnam's ASC clam products to be sold and introduced to the international community at a large global event.
On August 22, 2019, the signing ceremony of the ASC Clam Chain Link was held, that was important milestone - LEVERAGE THE CLAM VIET NAM. Especially, after more than one year of efforts by the leaders and staff of Lenger Seafood Vietnam company with the support of the People's Committee of Nam Dinh province, the Department of Agriculture and Rural Development of Nam Dinh province, the ICAFIS, the RECERD, "Linkage farming area Lenger Vietnam company" was honored to be the First in Vietnam and the world to obtain ASC Certification for Meretrix Lyrata. This achievement has a very important meaning contributing to the Identification of Vietnamese clam products in the international market, it is like "Visa Vip" for Vietnamese clam products to be come in many markets around the world, at the time helping the Vietnamese clam brand further.
At this ceremony, Mr. Sofiane Ainseur of Control Union said: ASC Certification was achieved when farm need to do well protect nature, environment, water resources, biodiversity and natural populations, responsibly use natural resources, ensure disease free, ensure social responsibility (not using child labour). These are very challenging and difficult, but Vietnamese fishermen have committed to do (especially have supported by the local government). Control Union's inspection team found that Vietnamese fishermen have strictly complied with the commitments between the company and farmers, helping the inspection team to easily control, survey and evaluate.
Lenger Seafoods Vietnam - The first company in the world to obtain ASC Certification for Meretrix Lyrata clam
Lenger Seafoods Vietnam (LSV) is a 100% foreign-owned company, invested by Lenger Seafoods Group, Netherlands, which have more than 90 years of fishing, farming, collecting, buying, processing, trading and distributing all kinds of bivalve mollusk, shrimp and squid. The group have more than 16 processing plants across Europe. For nearly a century, LSV have always endeavored to create and invent high quality product processing technologies, in accordance with the slogan of Taste of Excellence. At each stage, farming, harvesting, processing, trading, and service ... all must be perfect.
.
LSV's primary goal is to produce clean, safe and nutritious products. Therefore, for many years, the company has been constantly searching and improving production processes to create safe, quality products with high nutritional value, conquering many difficult markets in the world. In Vietnam, Lenger's clam products are also present at supermarkets such as Citimart, K-Mart, Intimex, Vinmart, Lotte ... In addition to proactive input materials, Lenger Vietnam still wants to have source of clean, safe and sustainable clam products. Currently, the world tends to favor MSC / ASC certified products. Therefore, the MSC-certified clam is also one of the goals that Lenger Vietnam is aiming for.
Speaking at the end of the ASC certification ceremony, Mr. Nguyen Phung Hoan (Vice Chairman of Nam Dinh Provincial People's Committee) told Lenger Vietnam and the Nam Dinh clam farming community: This is just the beginning, to maintain, Lenger must work with farmers and fishermen to discuss and exchange technologies and experiences to help the chain sustainably develop. In the coming time, it is necessary to expand the model, improve economic efficiency, ensure environmental protection. Nam Dinh Provincial People's Committee commits to accompany with farmers, fishermen and investors, specially willing create the most favorable conditions for investors.
Ngoc Thuy – FICen