VIETNAM SHRIMP FORUM 2019
DEVELOP VIETNAM SHRIMP BRAND
June 19, 2019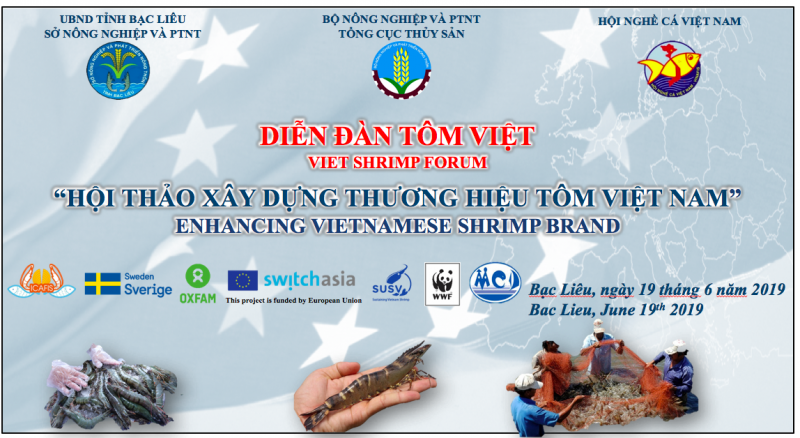 Dear sir/madam
Vietnam seafood sector has contributed 3% of Vietnam GDP, Vietnam seafood products have been exported to 164 countries around the world, shrimp is the one of four Vietnam key seafood products, shrimp accounts for 45% of total Vietnam seafood export value and it create job and income for around 700,000 households. On average, shrimp sector have an annual growth rate at 6.82%...
On Jan 18, 2018, Vietnam prime Minister issued the national action plan on development of Vietnam's shrimp industry by 2025, the plan sets the target of shrimp export value in the period of 2017-2020 will reach 5, 5 billion USD and 2021 - 2025 period reach 10 billion USD. Vietnam shrimp industry will promote advanced technologies, pro-biotic and large scale production to ensure food safety and traceability via whole shrimp value chain.
Vietnam is ranked as the third biggest shrimp producer and the biggest black tiger shrimp producer, Shrimp also contributes the main part of Vietnam seafood. However, in more than 20 years of development history, it also faced a lot of difficulties, challenges about market, stable price. In order to overcome them, it is time to build Vietnam shrimp brand on international market.
To enhance competence capacity and the image of Vietnam shrimp on international market the Vietnam Directorate of Fisheries collaborates with the project "Sustainable and Equitable Shrimp Production and Value Chain Development in Vietnam – SUSV", Graisea project, ICAFIS, MCD, Oxfam in Vietnam, WWF in Vietnam to organize "VIETNAM SHRIMP FORUM – DEVELOP VIETNAM SHRIMP BRAND"
Time: June 19, 2019
Location: Bac Lieu Cultural center (Nguyen Tat Thanh street, Ward 1, Bac Lieu city, Bac Lieu
Organizer:Vietnam Directorate of Fisheries, Bac Lieu people's Committee
Co-organizers: Susv project, Graisea project, Oxfam in Vietnam, ICAFIS, MCD, WWF in Vietnam
Participation method: free
FORUM SUBJECT:the forum will focus on:
Vietnam shrimp brand building orientation

Solutions to enhance Vietnam shrimp brands

Solutions to strengthen Vietnam shrimp value chain associated with shrimp brand

Traceability
MINI EXHIBITION
One small exhibition about shrimp production input products, advanced technology production and traceability solutions is also organized
Participants:500 participants from Vietnam Directorate of fisheries, Vietnam Fisheries Societies, VASEP, international buyers, shrimp processing and exporting enterprises, shrimp production input suppliers (shrimp seeds, probiotic, feed, equipment….), National agricultural Extension Center, Research Institute for Aquaculture, Vietnam Institute of Fisheries Economics and Planning, Department of Technologies and Environments, Institute of Policy and Strategy for Agriculture and Rural Development (IPSARD), ICAFIS, provincial Department of Agriculture and Rural Developments in Mekong delta, Universities, Oxfam in Vientam WWF, SNC, MCD…..
For more information and register please contact:
Mr. Dinh Xuan Lap – Deputy of International Collaborating Center for Aquaculture and Fisheries Sustainable (ICAFIS)
Cellphone: 0985.024.307 Email: lap.dinhxuan@icafis.vn
To register exhibition – please contact:
Mr.Nguyen The Dien – ICAFIS officer:
Cellphone:+84-974700003 Email:dien.nguyenthe@icafis.vn