Seafood Expo Global in Brussels, Belgium is the one of yearly biggest events of global seafood industry with the 1,700 companies' exhibiting booths from 75 countries. The event is a place for seafood companies to exhibit and introduce their seafood products and relating services. The One of main Expo's objectives is to promote the sustainable development in the global seafood supply chain, it created an open space for meeting sharing for both producers and buyers. Lots of dialogues, workshops and conferences was organized for all global seafood industry stakeholders (NGOs, national policies makers, financial organizations, Investors, seafood companies….) to discuss on the best solutions for sustainable global seafood industry development.
With the initial achievements which brought both economic and environmental benefits for small-scale shrimp producers and small – medium enterprises, the SusV project management board, Oxfam and ICAFIS decided to attend Seafood Expo Global in Brussels (lasting from 25 to 27 May, 2017) to create and improve the market access, standards/producers'/processors' requirements/compliance of Vietnam shrimp industry and specially build the trust from international customers, buyers on the transparence of Vietnam shrimp value chain which influence the overall investment for production "move forward with Vietnam shrimp". Here below are some our activities:
- 01 booth which is meaningfully and meticulously prepared by SusV project management board. It is a place to meet, share and discuss plans with international buyers
- 01 workshop "From farm to fork" to share with customers, buyers and international communities about the Vietnam shrimp value chain with the close linkages, good management, traceability, responsibility and equitable benefit sharing…
- A thousand of Postcard with the pictures of Vietnam shrimp farming, processing have been shared by SusV project. Those pictures show the reality of responsible, environment friendly farming activities as well as advanced and ecological farming models.
- A thousand of leaflet about the project objectives, activities, outputs and stories have been delivered and shared with international customers and buyers.
- The project management board also collaborated with the Expo organizer to organize other communication activities.
SusV Project moves forward with Vietnam shrimp –Photo dairy at Seafood Expo Global in Brussels, Belgium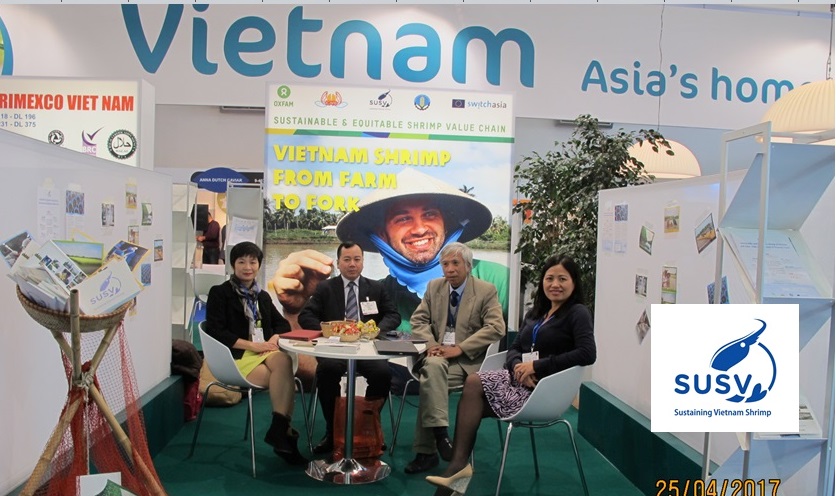 SusV project took photo with the vice chairman of Vietnam Directorate of Fisheries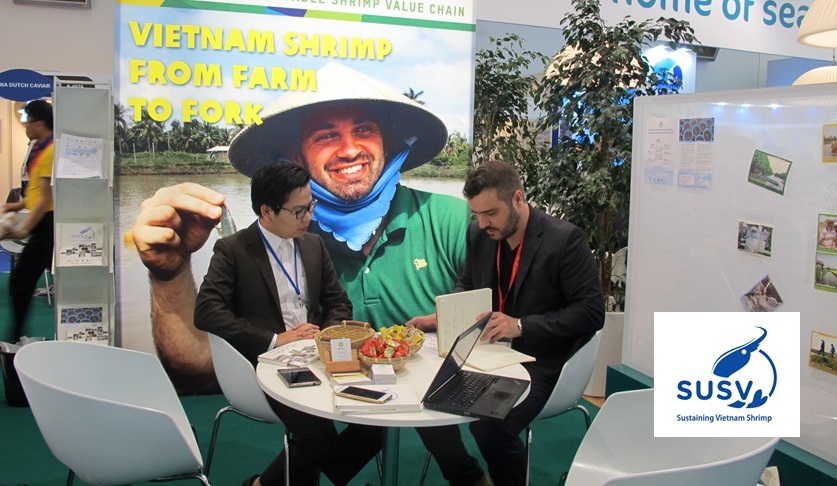 Working with an international buyer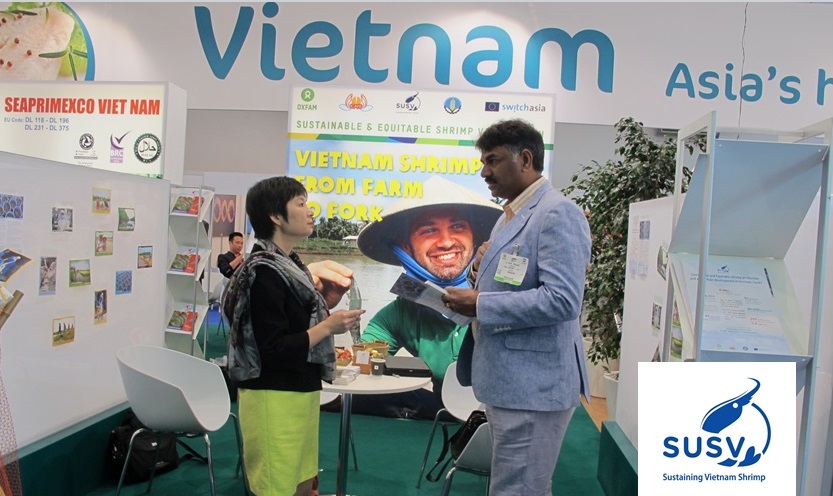 Sharing the project results with an international buyer.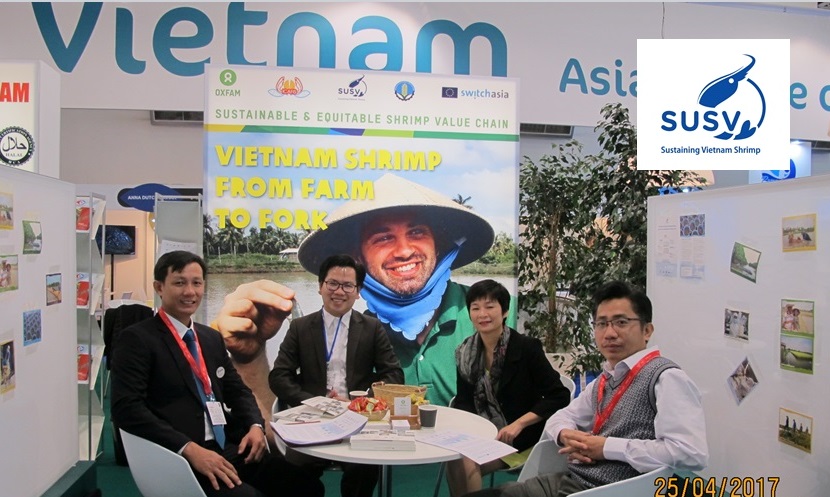 Working with ANOVA buyer representative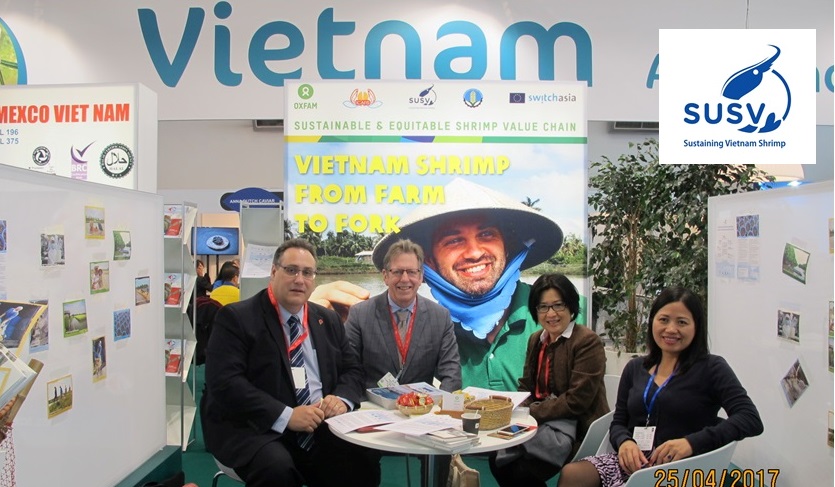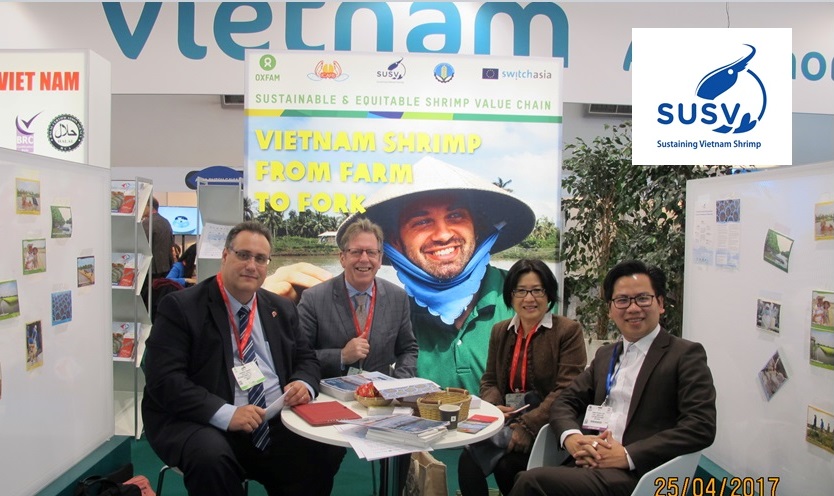 Working with International Aquafeed and International Aquaculture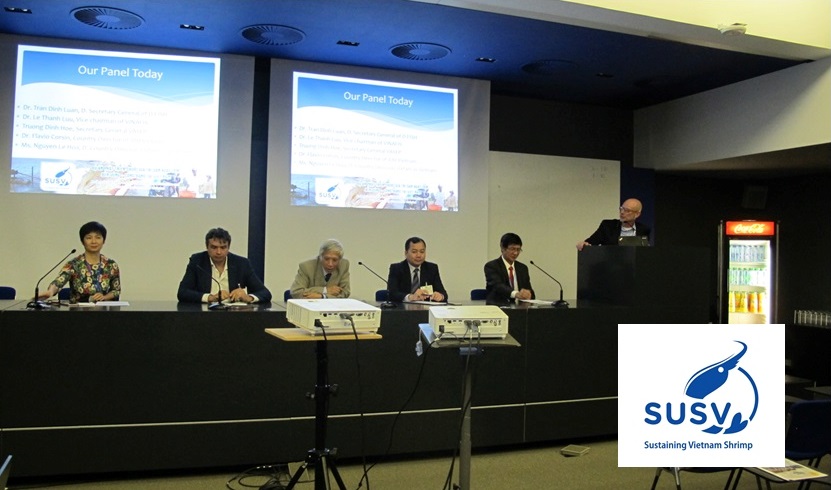 From Farm To Fork" workshop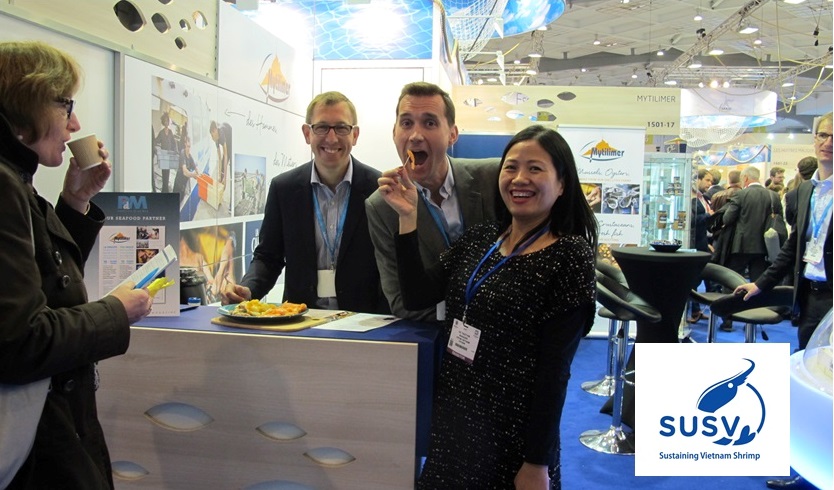 Sharing moment with international friends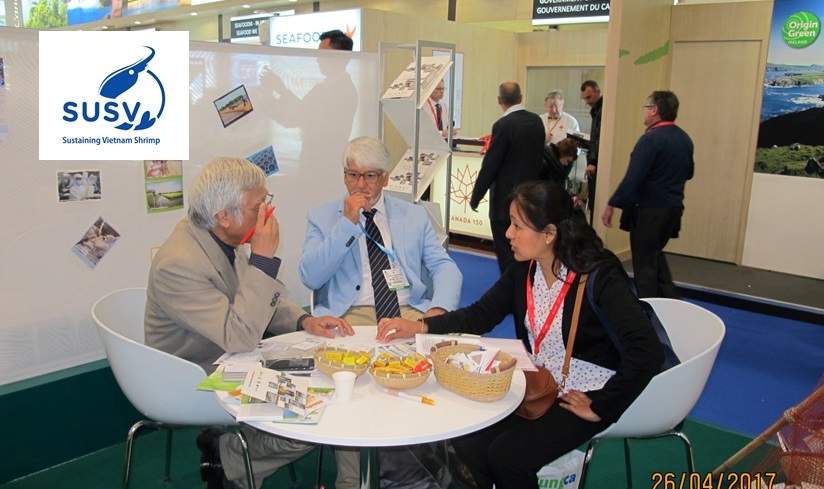 Working with a Japanese buyer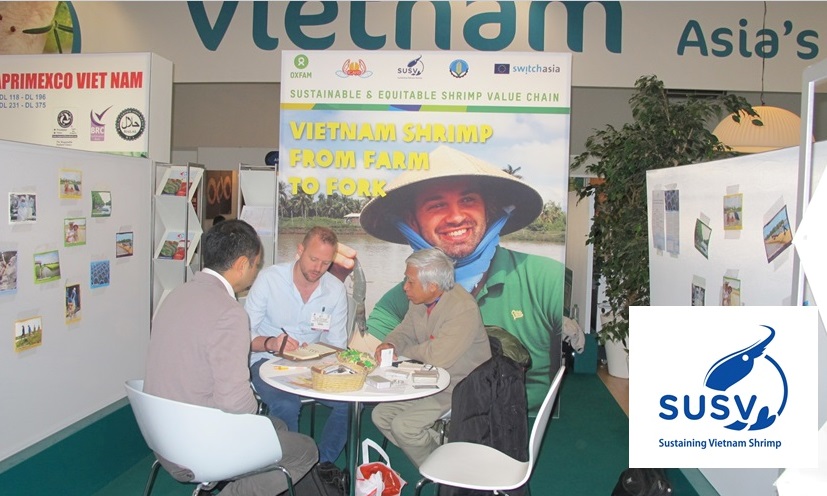 Working with the ASC organization representatives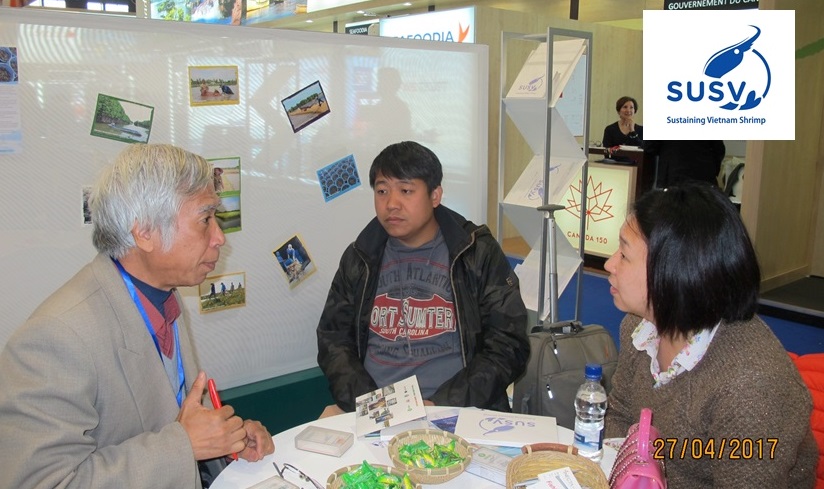 Working with a UK buyer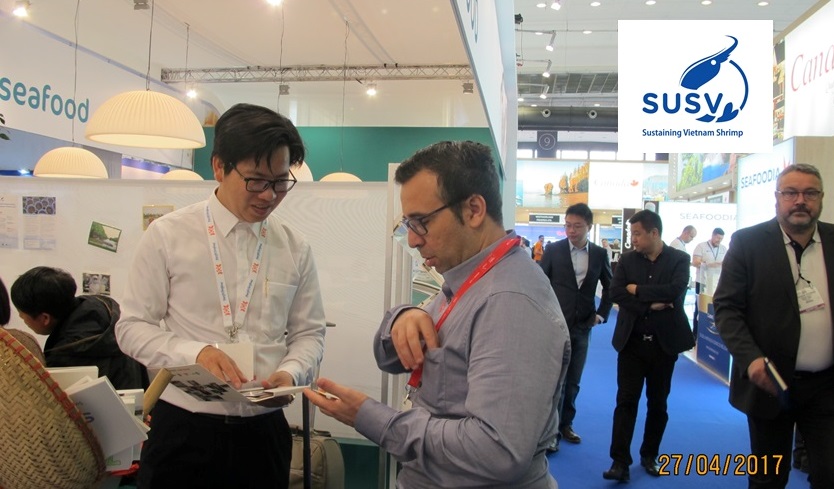 Sharing with customers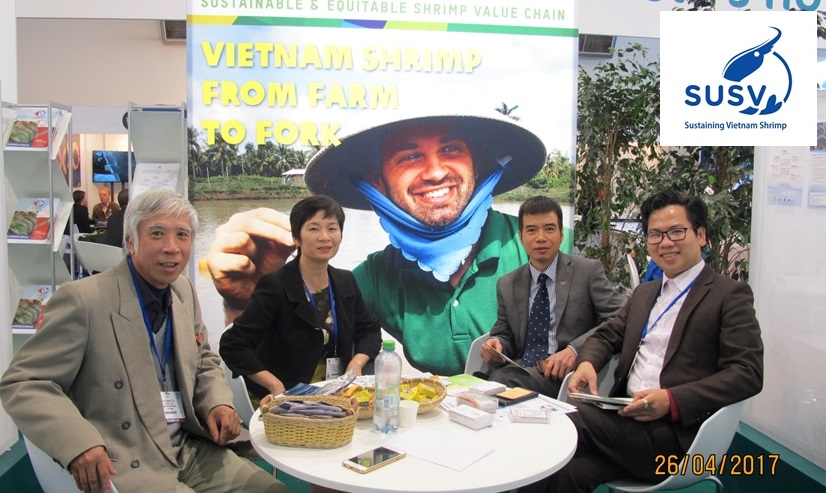 Taking photo with VTV resident representative in Euro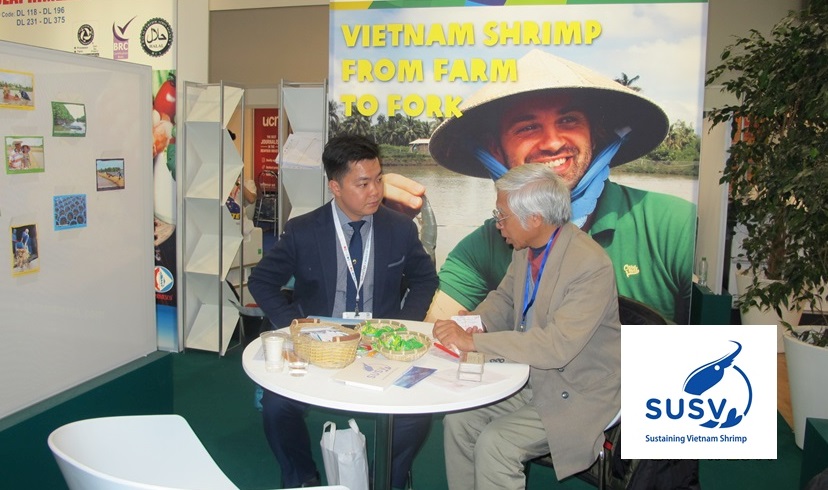 Discussing the plan in coming months with Quoc Viet Company
COMING UP NEXT: VIETNAM SHRIMP VALUE CHAIN – CUSTOMER CONFERENCE
Register at: http://susv.icafis.vn/vietnam-shrimp-value-chain-customer-conference
Xuan Lap - ICAFIS