Mekong delta is the biggest aquaculture production area in Vietnam, accounted for about 12% of Vietnam area but 70% of total aquacultural production area and 58% of total national aquacultural yield. Of which, shrimp is the one of main key exporting aquacultural products (shrimp is accounted for 44.4% of aquacultural product exporting revenue), Vietnam shrimp have been exported to 164 countries, created jobs for 700,000 household. Mekong delta accounts for 91% of Vietnam shrimp production area as well as the main location of shrimp processing industry especially in Ca Mau, Bac Lieu, Soc Trang and Kien Giang province.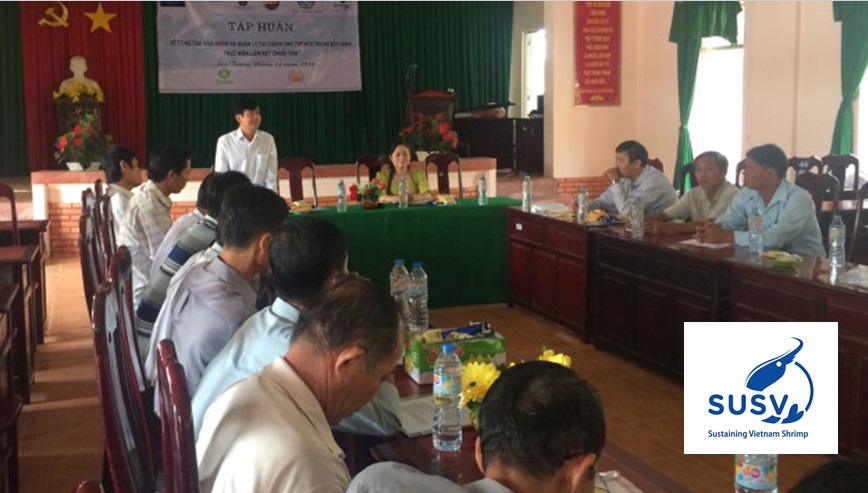 Shrimp production and processing have developed strongly in recent years. In 2010, the shrimp production yield was only 370,000 tons but it reached to 596,000 tons in 2015 with exporting revenue of 3 billion USD, accounting for 44.4% of total annual aquaculture exporting revenue. In the context of global integration, TPP, FTA, farmbill… or international standard system, it is necessary to help shrimp producers integrate to ensure traceability in the shrimp value chain, sustainable development in both environmental and social aspects.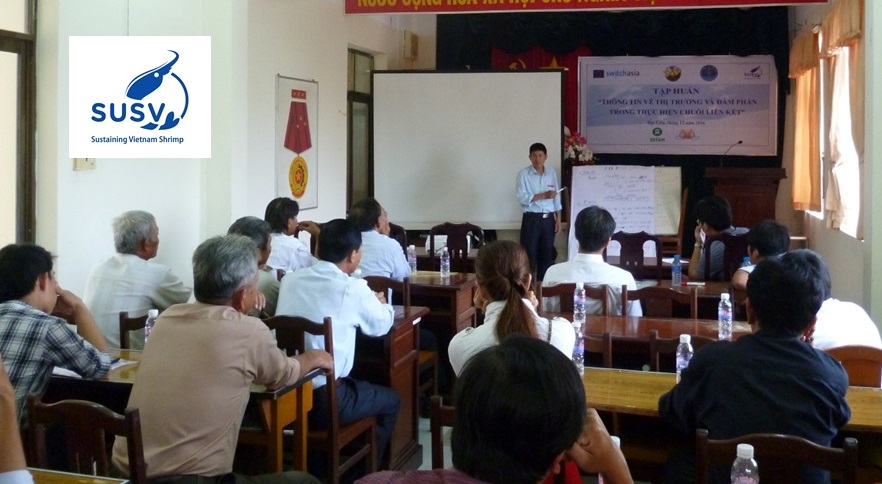 However, according to the study results conducted by ICAFIS and Institute of Policy and Strategy For Agriculture and Rural Development (IPSARD) in Soc Trang, Bac Lieu and Ca Mau show that "the capacity of farmer groups/cooperatives is limited":
i) The capacity of farmer groups/cooperatives management committee staff is low, nearly 100% of the staffs do not have college or university education.
ii) The farmer groups/cooperatives administration is weak or not implemented, only 24% of them have finance management regulations and 7.1 % had tax reports.
iii) Most of farmer groups/cooperatives do not have common assets, therefore they faced difficulties in providing services to members.
iv) Farmer groups/cooperatives have limited access to commercial banks because the banks don't want to loan them without collateral.
v) Farmer groups/cooperatives have limited collective business activities: collective seed buying at 25.7%, collective feed buying at 25%, medicine/chemical at 3.6% and collective selling shrimp at 14.3%.
vi) In addition, shrimp producers often face difficulties in disease and environment management. In 2014, there were 60,000 ha affected by white spot syndrome and EMS disease. In 2015 and he beginning months of 2016 they faced disease caused by Enterocytozoon hepatopenaei.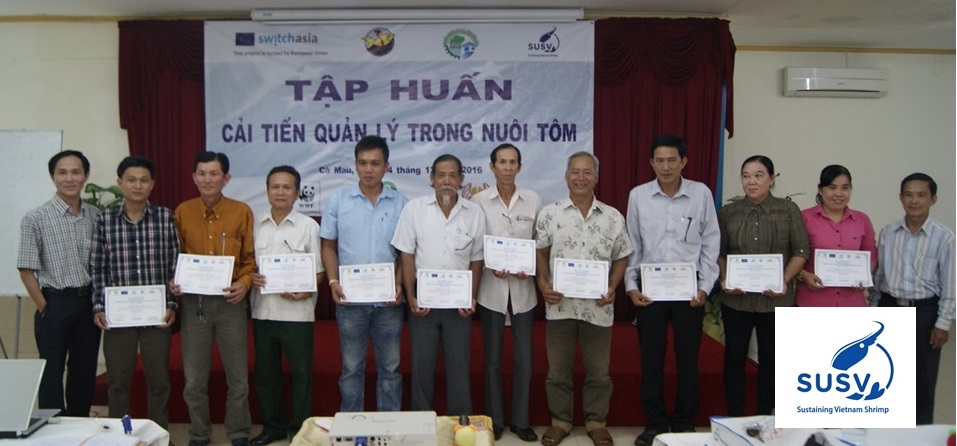 In order to improve the capacity of shrimp producers and help them joining in the "battle" of integration. In 2016 the project "Sustainable and Equitable Shrimp production and value chain development in Vietnam – SUSV" implemented by OXFAM Vietnam and INCAFIS has collaborated with provincial Agriculture and Rural Development department, fisheries sub-department, agriculture extension center in Soc Trang, Bac Lieu and Ca Mau to organize more than 30 training courses for farmer groups/cooperatives on:
- Environment and disease management in shrimp raising
- Improved technologies in shrimp production
- Making business plan for farmer groups/cooperatives in implementing value chain
- building business relationship and Negotiation in value chain
- finance management for farmer groups/cooperative in the context of implementing value chain
- Market and negotiation in implementing value chain
- Preparing documents to get loans
- International and national standards and internal audit skills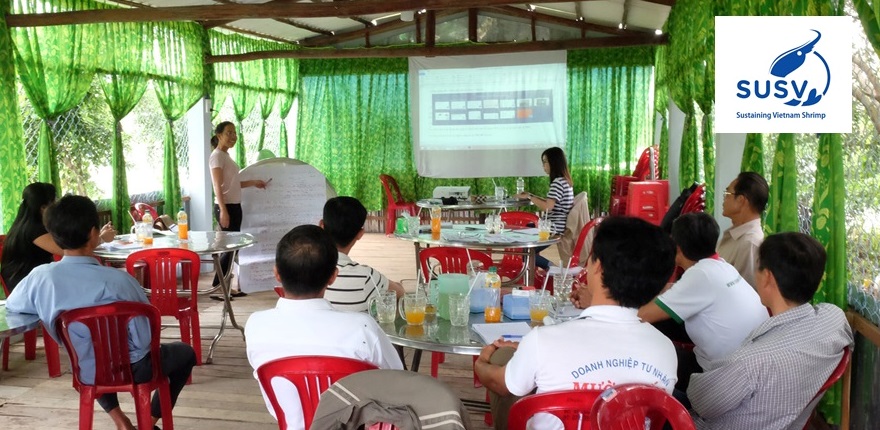 The training courses attracted the full participatory of 30 farmer groups/cooperatives' members, staffs of Agriculture and Rural Development department, fisheries sub-department, agriculture extension center in Soc Trang, Bac Lieu and Ca Mau province.
In all training courses, there were always discussion, group exercise sections between the presentations to create opportunities for participants to share/exchange knowledge, experiences in shrimp raising, marketing as well as find solutions for the difficulties which the farmer groups/cooperatives faced in applying ASC, Vietgap standard and joining value chain linkages.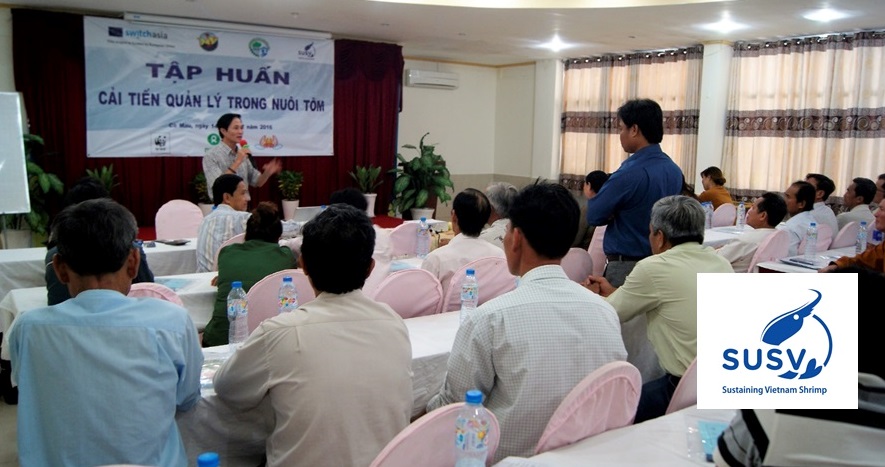 From newly acquired knowledge and shared experiences from the training courses, one again farmer groups/cooperative recognized the necessity of applying the advanced technologies, practices in order to mitigate risk, heighten profit and ensure the sustainability of shrimp raising activities.
In 2017, the project will continuously organize farm field schools, build pilots applying advanced technologies to improve the capacity of farmer groups/cooperatives to help shrimp value chain more sustainable and bring more equal benefit to small household shrimp producers and farmer groups/cooperatives as planned in the project.
Xuân Lập, Vũ Thùy - ICAFIS