On 5 Dec 2015, the Conference of Trade Ministers of 12 member countries Ahave reached a final agreement and the conclusion of negotiations on Trans-Pacific Partnership Agreement (TPP). TPP is considered the Agreement of the 21st century and expected to bring more opportunities for seafood export businesses.
Opportunities for fisheries
The direct impacts of the TPP for Vietnam fishery industry come from the tariff measures (tax incentives for Vietnam seafood imported into the TPP member countries, as well as tax incentives for TPP partner countries which export seafood to Vietnam) and border measures related to imports (the trade remedies, technical barriers, sanitary and phytosanitary ...).
Zero rate of duty on shrimp under TPP would be priority for Vietnam shrimp to penetrate into markets. According to VASEP, the TPP member countries will be reduced by 90% taxes on goods import and export and gradually to 0% in near future. This is a positive signal for seafood exporters, particularly tuna exporters to Japan - the second largest market of Vietnam, after the United States.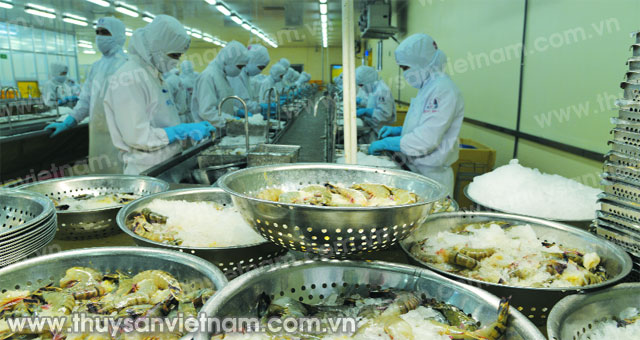 Enhancing social responsibility
One of the best features of the TPP is the higher requirements on corporate social responsibility (CSR). Thereby, the enterprise's CSR must show specific factors including: 1. Environmental protection; 2. Contribute to the social community; 3. Make good responsibility with suppliers; 4. Ensure interests and safety for consumers; 5. Good relations with employees; 6. Ensure benefits for shareholders and employees in the enterprise.
So far, many Vietnam seafood companies have yet to see clear opportunities but see different challenges. One of the challenges is CSR implementation by corporates; there were two key contents of CSR in 14 issues under negotiations and commitments in the TPP. Besides, "spirit" of CSR is also mentioned in many other terms in the TPP.
CSR and branding after joining in TPP
According to Amir Kassaei, brand expert, "Branding is not just a product, or a sense of promise. It is a combination of an individual's experiences of a business". Feelings of consumers to corporate branding relate to CSR activities. Intangible value from CSR implementation will contribute greatly to the increase of tangible value to companies.
Of the three components of economic, environmental and social in CSR, there is no particular content on HUMAN. However all criteria in CSR focus on HUMAN. In which, trust of consumers to corporates is built or improved by CSR deployment by them. The effectiveness of CSR can be evaluated through financial indicators (such as the satisfaction of consumers, the number of complaints, energy consumption, waste volumes, labor productivity..) and consumer confidence with corporate brands.
Improving the quality of labor
Pham Chi Lan, an economic expert, mentioned basic advantages when Vietnam has commitments to labor issues in TPP. Stricter regulations under the TPP would bring more benefits for workers. Standing on the basis of the rights and aspirations of the workers, we should strongly support for this. Companies could enjoy long -term benefits when they implement these labor requirements.
CSR is a sustainable development solution in integration
Mr. Tuong Phi Lai, Deputy Director of the International Collaborating Center for Aquaculture and Fisheries Sustainability (ICAFIS) said that Vietnam's fisheries sector has made strong progress over time. However, this development also pose a number of factors which are not sustainable, particularly the implementation of CSR by companies is still passive, only to meet the requirements by importers. Promoting actively CSR towards improving the quality of products, protecting interests of consumers, the social security for workers, environmental protection could be the key for Vietnam seafood to open doors through TPP integration and sustainable development.
ICAFIS - Corporate social responsibility in fisheries (CSR)