In order to support the clam industry in Tra Vinh province complete remedial measures to achieve sustainable development certification. Especially, the people and communities in the clam area have been improved their knowledge on resource conservation, conservation of rare flora and fauna, and sustainable exploitation, SCBV Project Management Board, International Collaborating Centre for Aquaculture and Fisheries Sustainability (ICAFIS) has carried out the following activities: Propaganda to raise community awareness through the design and installation of a propaganda panel on protection of clam resources in the clam area of Tra Vinh province.
The activity was planned for a long time but was delayed many times due to the influence of the Covid-19 Pandemic, in 3 days from 6 to 8/12/2021 propaganda panels on resource protection were installed at the Cooperatives Tien Thanh Fishery Cooperatives, Thanh Cong Fisheries Cooperative, and Thanh Dat Fisheries Cooperative in Chau Thanh, Cau Ngang and Duyen Hai Town districts of Tra Vinh Province.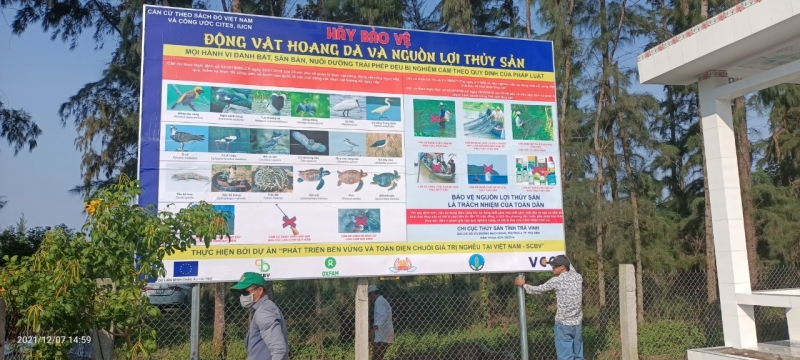 Propaganda panels to protect resources at Thanh Dat Cooperatives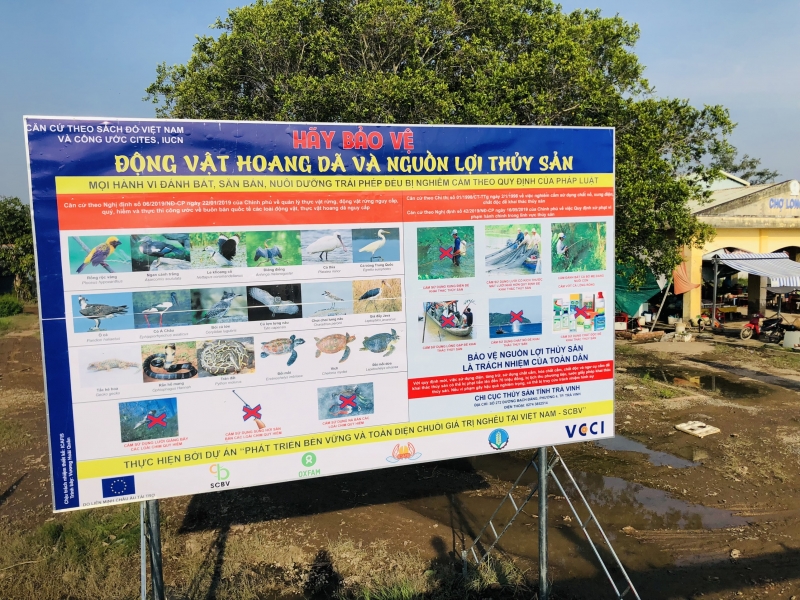 Propaganda panels to protect resources at Tien Thanh Cooperatives.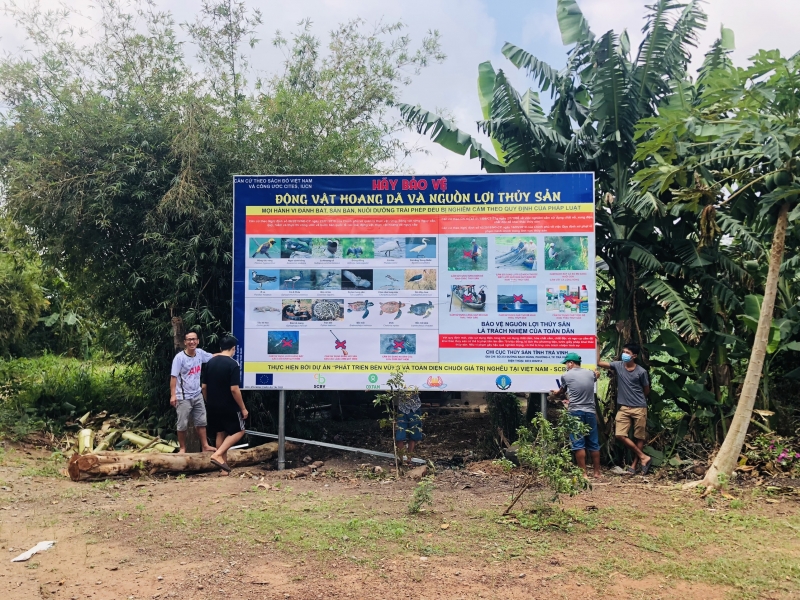 Propaganda panels to protect resources at Thanh Cong Cooperatives
Propaganda to raise public awareness through the panel on clam resource protection to improve the community's knowledge about the information on rare and precious species of flora and fauna, regulations on the protection of clam resources. Banning exploitation and sustainable methods in clam fishing. At the same time, the propaganda by images will help people easily remember images and information about rare and precious species of flora and fauna as well as the allowed and prohibited forms of fishing and exploitation.
The information and images on the banner are carefully selected and carry the message "Please protect wildlife and aquatic resources".
In addition, the clam industry of Ben Tre province is preparing urgently for the 3rd MSC re-evaluation in 2022, so improving the community's knowledge on resource protection and sustainable fishing is very important. Shortly, the operation will continue to be deployed in the areas of some clam farming cooperatives in Ben Tre province.
This activity is expected to affect more than 70,000 people, including direct beneficiaries (clam miners, members of cooperatives, groups) and indirect beneficiaries (people are living around that area, tourists, ...)
ThuDinh - ICAFIS