Strengthening the implementation of social responsibility in the development of Vietnam fishery is the content of the seminar on "Policy dialogue to promote the practice of social responsibility in the fisheries sector in Vietnam" held by MARD in Hanoi on 28 December 2015. The main content of the workshop is aiming to improve understanding of seafood enterprises and people about social responsible practices in fisheries development, and share experiences of good practice from businesses to motivate towards implementing social responsibility in the whole chain of Vietnam fishery.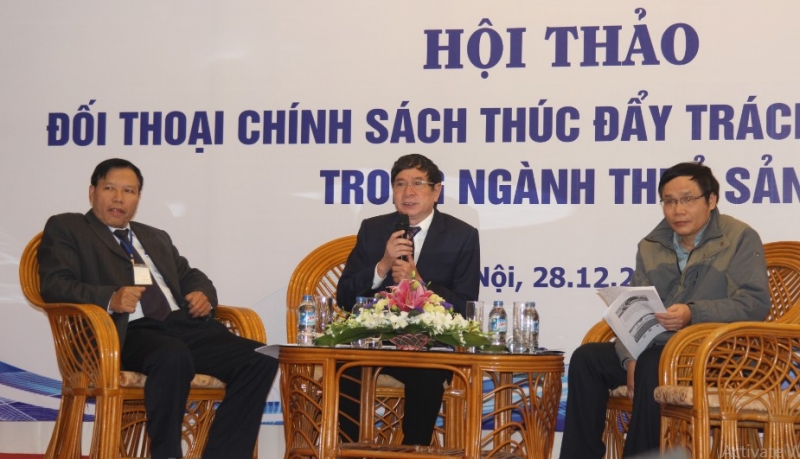 Seminar on "Policy dialogue to promote the practice of social responsibility in the fisheries sector in Vietnam"
Speaking at the workshop, Mr. Hoang Dinh Yen, General Secretary of Vietnam Fishery Society said: "The enhancement of the social responsibility of businesses and people not only bring economic benefits to the fisheries sector which also reach to the larger goals of sustainable development. This contributes to improving the relationship between economic growth and environmental protection, ensuring fairness between the generations in the exploitation and using of natural resources, in environmental protection. In this context, businesses expecting to build the image and improve its position in the domestic and international arena should take practical action, be more interested in the implementation of social responsibility, environmental protection, social security and improving product quality.
As reported at seminar, the current problems of environmental pollution, exhausted exploitation of resources, food safety ... have negative effects on image and prestige of Vietnam's seafood in international market. During past 10 years, fishing activities appeared many shortcomings and have not developed sustainably. Catch landings reached to limit allowed at 2.2 million tons / year, marine resources have signs of damage: bottom fish exploited over 30-35% .. ..These issues have been set out the need to promote responsibility of fishermen and businesses in catching, using and protecting marine fish resources, especially on the threshold of integration.
Đỗ Đạt
Source: http://www.baomoi.com
ICAFIS - Corporate social responsibility in fisheries (CSR)