To boost shrimp production in a sustainable way, enabling farmers and small - scale enterprises to improve production capacity, competitiveness in the integration process and access to governmental finance priority. On 19 January 2016, at the Culture and Conference Center of Soc Trang, Department of Agriculture and Rural Development in collaboration with Soc Trang International Collaborating Center of Aquaculture and Fisheries Sustainability (ICAFIS), WWF Vietnam organized a seminar on "Developing chain link in the value chain of shrimp in Soc Trang province". Mr. Tran Dinh Luan - Deputy Director of the Department of Agriculture and Rural Development of Soc Trang, representatives from seafood export & processing companies, feed companies, breeding enterprises; cooperatives and shrimp farming households in the province attended in the event.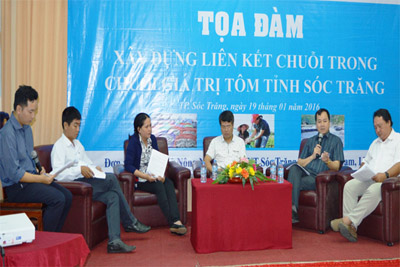 Soc Trang province is developing shrimp farming with a total area of 72,000 hectares. In which, brackish water shrimp farming area is 45,000 hectares, concentrated in three districts Tran De, Cu Lao Dung, My Xuyen and Vinh Chau town. White leg and black tiger prawns are the key species with the output of about 80,000 tons. According to the study by the Soc Trang Department of Agriculture and Rural Development, ICAFIS, WWF, the present shrimp farming activities in the province have been gradually formed in the chain; however, the link is not really tight and sustainable.
At the seminar, Nguyen Van Giap - Director SCAP presented a subject of "Risks in shrimp farming and development trends along the value chain". According to Nguyen Van Giap, common risks are the quality of the seed; weather conditions, environmental and complicated diseases; fluctuate market prices. Therefore, it is necessary to strengthen production linkages along the value chain by establishing cooperatives, cooperative groups; strengthening safe and standard shrimp farming; improving the management team of traders, preventing injection of substances into shrimp by small traders; strengthening links between farmers, reducing middle brokers. Besides, technical support for objects of interest should be focused; financial aid for farmers to meet the requirements for responsible shrimp farming; support for businesses register and accreditation according to international standards, linking supply chain and supplying loans for developing raw material areas.
Accordingly, the participants focused on assessing the current state of the province's shrimp chain. They also discussed some contents such as: current requirements for upgrading; provincial orientation in the development of the chain; financial policy of state to support for the chain. Through the seminar, representatives from feed companies, seed producers and cooperatives also discuss and identify needs within the chain link and give some directions to address market demands, difficulties and obstacles in doing chain link; demands of associated parties in the chain of shrimp production.
ICAFIS