For almost two years of implementing the project is not too long but there were lots of memorial experiences and achievements. I have worked with the farmers in the activity "gender equity improvement actions" for two years as the activity of the project "Gender Transformative and Responsible Agribusiness Investments in South East Asia (GRAISEA)". Having chance to witness the gender transformation/change stories when I accompanies with visitors from Oxfam Vietnam, I emotionally remembered the beginning of the project.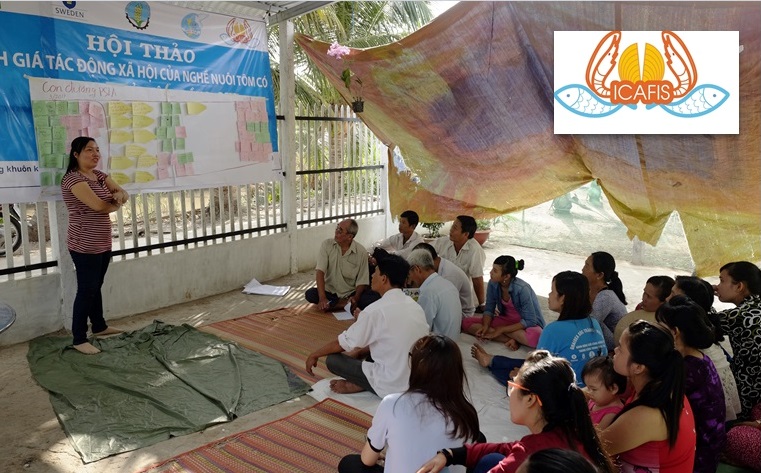 Gender transformation acion team member was conducting training and sharing with farmers.
The beginning:
The beginning of love always is a nice story. There were a lot of challenges and difficulties in the beginning of gender transformation but it has become the beginning of nice love story – the story of gender transformation/changes.

At the beginning, when we conducted gender training, shrimp farmers felt tired and bored because of i)the training lasts too long, it is not suitable for shrimp farmers who are very busy for taking care of shrimp all day long, (ii) Being tired of drawing, (iii) be kiddy, (iv) don't know what it is for and what is the final result?

At the beginning, they attended in the training because of respecting me but the rumor about the meaningless and unhelpful training rose in the hamlets. Some farmers only attended in the training for 20 munities and never appeared again and some called me to sorry for not attending in the project activities regularly but now they have become most active members and created most positive gender equity improvements in the target communities.

At the beginning, I even argued "Your gender equity tool (GALS) is not a stick with magic power to change local gender issues in the short time" and then I and others "gender transformation team" members were quiet and only focused on implementing Since Then.

Gender transformation team;

Gender transformation team was formed by the project "Gender Transformative and Responsible Agribusiness Investments in South East Asia (GRAISEA), the team members are the most committed, active and reputable in serving communities.

The gender transformation team members were selected and trained on the GALS TOT training and during practicing the tools in communities. With strong commitment they determined to improve the gender equity of their own families at first to inspire others in their communities but it was not simple work because i) the gender notions was rooted deeply the local people's thoughts culture, (ii) there was a long-lasting superstition that the presence of women in shrimp farming activities was unlucky, (iii) GALS requires the attendance of both husbands and wives, (iv) farmers are busy all day long with shrimp farming activities.

Determining for changes: although there were lots of difficulties the gender transformation team members were not pessimistic, they encouraged and inspired each other. They attended in the project activities, training with full participatory, they also visited all families who are farmer groups'/cooperatives' members for sharing. The team also integrated the gender training with the improved shrimp farming technique training to make gender training contents more interesting and attractive to farmers.

When the gender training contents became attractive to farmers. More training courses and more often have been organized, there also have been more sharing about gender equity in (i) discussions among family members, (ii) discussions among group members about shrimp farming techniques, (iii) in communities' meetings, (iv)integrated gender issue in pSIA/GALS, (v) in making community livelihood plans…. All of that have initiatively made CHANGES

The first change was just the workload sharing between husbands and wives, and then the change leveled up to the changes in notion about gender equity; i) women have participated in shrimp farming in a lot of families, ii) women have been allowed to go to shrimp ponds in the seed stocking time, iii) the women were active to learn to drive motorbike so they can attend in trainings, communities' meetings/events, workshops, sharing activities, vi) more men quitted alcohol drinking habit and shared house chores with wives – the sharing has strengthened bond between husbands and wives.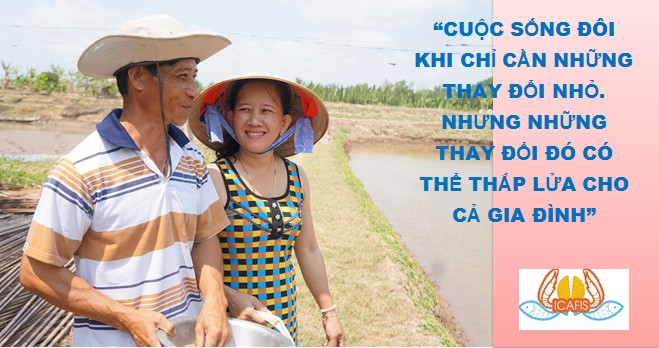 Mr. Bap and Mrs. Phuong – 14/10 cooperative in My Xuyen district, Soc Trang province and their change story
The changes also came from the most conservative person, Mr. Ngo Cong Luan – the director of 14/10 Cooperative in My Xuyen district, Soc Trang province shared "at first, I thought Mr. Bap would not change because he was very conservative and patriarchal, but now he has changed a lot and become the most active member. He, his wife and kids also attend community and group activities together."
Shared by Mrs. Phuong – Mr. Bac's wife: at the beginning, I was shy because I was not youth and I did not know how to draw. But more times I joined, more happiness I got because both I and my husband had opportunity to learn and share together. As the result of learning, my husband has helped me with house chores such as sweeping, cutting grass for cows, feeding cows. I also helped him with shrimp farming, now I can feed shrimp or know how to use aerators so when he is busy I can take care of shrimp ponds. In the last shrimp farming crop, He also discussed with me before making decisions on production plan, I also got some knowledge on shrimp farming during attending discussion with others before and I agreed with him. We unanimously applied rice shrimp rotation, the weather was abnormal so that lots of families suffered loss but our shrimp farm was successful so I and my husband are very happy,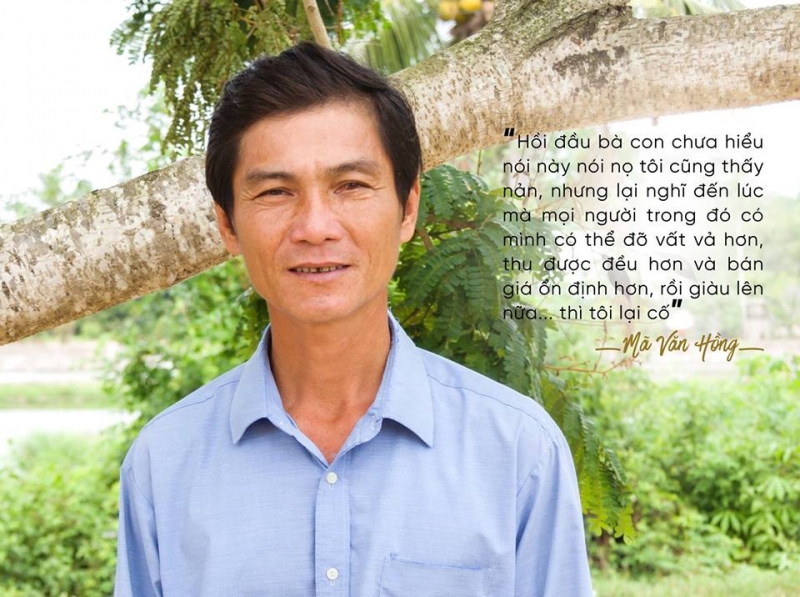 Mr. Mai Van Hong – the director of Hoa De cooperative, My Xuyen, Soc Trang and his change story
The changes also were created in communities, the change seemed to be impossible in the past. For long time ago, the farmer groups/cooperatives management board members were only men, in their conception, production is the men's work, only men could make good decisions for communities. Via gender equity action plan and sharing, Thanh Dat and Hoa De cooperative recognized that the role of women is important, the presence of women in management boards can make the decision making process more balanced to avoid hasty decisions. Women are better at financial management than men, therefore they have actively changed the management system to have women in cooperative management boards.
Witnessing the changes in communities and farmers I feel very happy because I am a little useful to contribute a little for communities. Ms. Thi – the communication specialist from Oxfam Vietnam asked me "what is the role of ICAFIS in the project", I was so emotional to answer, just smiled. If someone ask me to share experiences, I will share shortly "working with your heart will create the changes" and "using tools well will make transformation". Wish the gender transformation team will inspire, spread joy and wish shrimp farmers have successful crops.
Xuân Lập and ICAFIS team