Nam Dinh is an honorable locality to have the first unit in Vietnam and in the world to obtain ASC certification for clam - Meretrix lyrata.
In Vietnam, Meretrix Lyrata farming originates from the Mekong Delta region and has been researched for artificial seed production and developed in most of the coastal provinces. Over the past years, the clam culture has achieved strong developments in terms of cultured area and production as well as the level of intensification, becoming one of the four main aquatic species of Vietnam (along with shrimp, pangasius, tilapia)
In 2019, the farming area of ​​clam and bivalve mollusks were estimated about 41,200 ha with a total output of nearly 370,000 tons, export turnover reached 93,642 million USD, of which clam products accounted for 63 million USD. When clam farming was developed, the coastal tidal area was exploited effectively and created jobs for about 200,000 labours.
Meretrix lyrate clam of Vietnam are popular in many markets around the world, such as EU, USA, Japan, Korea ..., in which EU market accounts for 52% of total clam-clam export.
However, the clam industry has been facing many difficulties and challenges recently. Especially technical barriers, quarantine issues, product traceability and the increasing requirements of importing countries with dense certification systems. In the context of global integration, Vietnam has set a requirement for sustainable development, manufacturing towards achieving international certifications, diversifying products and promoting organizational programs and projects value chain production to enhance the value and brand name of Vietnam's clam industry.
In order to capture opportunities, as well as enlarge the market, the practice of sustainable production and chain linkage is always the top priority of seafood enterprises and also the general trend of the market. According to statistics, the fisheries sector contributes more than 3% of the total gross domestic product (GDP) each year. Vietnam's seafood products have been present in many countries and regions around the world. In which, clam is one of the four key aquaculture products of Vietnam. In Nam Dinh, clam was identified as the staple commodity of province.
Towards business with small-scale producers, contributing to enhancing the value and branding of the clam in Nam Dinh province in particular and Vietnamese clam in general, with the support of the International Collaborating Centre for Aquaculture and Fisheries Sustainability Fishing (ICAFIS), Center for Research Resources and Rural Development (RECERD) and local agencies, departments, People's Committee provincial, Department of Agriculture and Rural Development of Nam Dinh province cooperated with Lenger Seafood Vietnam Co., Ltd. in implement the project "The ASC clam value chain in Nam Dinh province - Lenger Seafood Vietnam ".
Especially, after more than one year efforts "Linkage farming area Lenger farm" in Nam Dien commune, Nghia Hung district, Nam Dinh province was honored to be the First in Vietnam and the world to obtain ASC Certification for Meretrix Lyrata. This achievement has a very important meaning contributing to the Identification of Vietnamese clam products in the international market, it is like "Visa Vip" for Vietnamese clam products to be come in many markets around the world, at the time helping the Vietnamese clam brand further.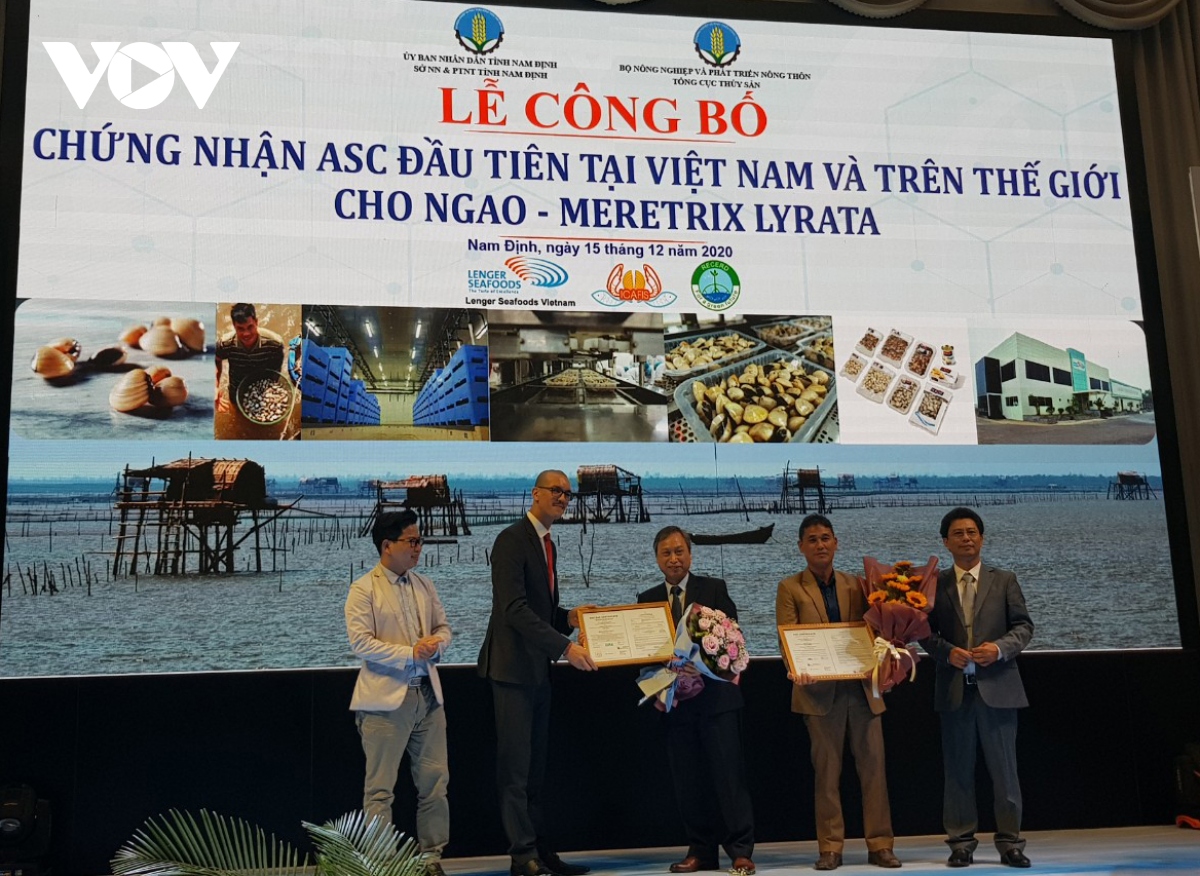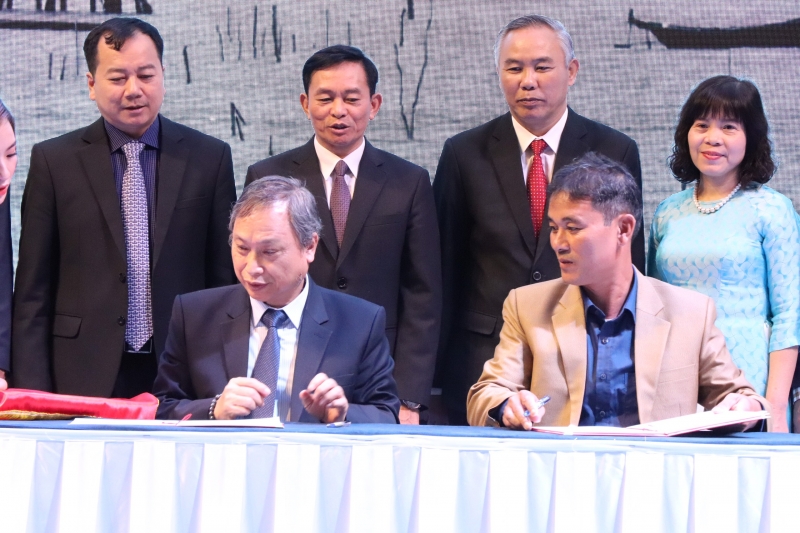 The ASC certification is an international standard for sustainable aquaculture which established by World Wild Fund for Nature (WWF) and The Sustainable Trade Initiative (IDH) in 2010. The ASC certification currently has 8 sets of standards for 12 aquaculture species, including clam. Now, it is estimated that more than 700 farms/culture regions from more than 40 countries have obtained ASC certification for farmed products.
ASC certified products are favored by consumers in many markets, especially Europe. "According to survey by ICAFIS show that ASC certification is preferred by many clam collectors and choose to order for markets in Europe, America, Japan and high-class supermarkets in China. The Japanese market also has a special priority for seafood products sustainable certified as ASC, MSC at the 2020 Summer Olympics (to be held in 2021). This is a great opportunity for Vietnam's ASC clam products to be sold and introduced to the international community at a large global event." Mr. Dinh Xuan Lap Deputy Director of International Collaborating Centre for Aquaculture and Fisheries Sustainability (ICAFIS) shared.
An Nhi / VOV.VN
The project "Sustainable and comprehensive development of the Clam-Bamboo value chain in Vietnam" was implemented by the International Collaborating centre for Aquaculture and Fisheries Sustainability, funded by Oxfam in Vietnam and the European Union. The project aims to create a sustainable Clam value chain from farming to processing. ICAFIS assisted Lenger in connecting market with foreign buyers. Hopefully, through this event, the two sides will cooperate more and more to bring the Vietnamese Clam further in the world.
ICAFIS- synthesis