This project aims to empower women and men in their self-learning and monitoring process for further changes in gender and power relationships in shrimp, pork and chicken value chains through creating stories by reflecting on their empowerment process through GALS[1] application. By boosting their inner pride of the successes they made, the project has been assisting them to become role models ("heroes") for wider change. It also inspires Oxfam and partners to make programme MEL more compelling and closer to the realities in communities.
Starting from June 2016, this project supported 128 core farmers to participate in 4 photovoice training workshops in 4 provinces. They learned how to use the camera for capturing moments in the life, and developed skills to interview and tell stories. After the training, 48 cameras were given to these farmers for using in rotation. With coaching from local partners (e.g farmer union, women union, agricultural extension center), hundreds of photos and stories have been collected. These ones will be selected for photo exhibitions which are planned to organize in the community by the end of February 2017 and in Hanoi capital by early March 2017.
Sample of photo stories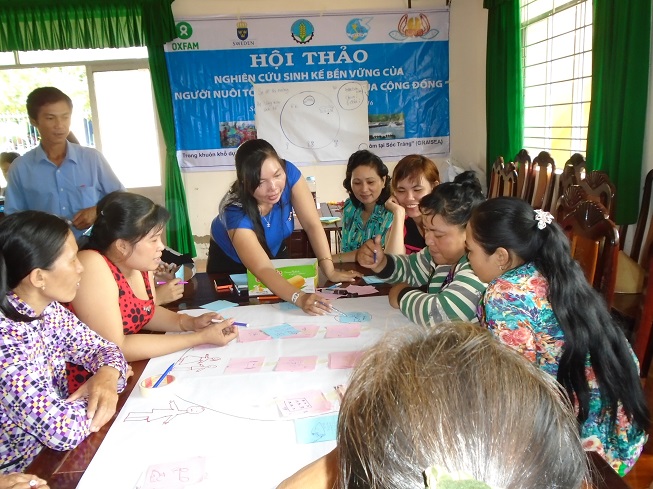 This is Ms Ngo Thi Phuong Lanh (wearing the blue shirt). She is facilitating a discussion among members of shrimp farming cooperative on how to use the livelihood mapping tool for analyzing different forms of household livelihood.
Ms Lanh currently resides in Ngoc Dong commune, My Xuyen district, Soc Trang Province. In May 2015, when the leader of cooperative told Lanh to join in trainings on gender equality in shrimp value chains, Lanh refused: "I am not going, I don't like going to crowded places and I don't like trainings". But after some persuasion, Lanh finally agreed to attend the training. Lanh said: "On the first day of the training, I felt like a kid going to pre-school because I didn't know anything. But on the second, owing to the friendliness and enduring explanations of facilitators, I became less timid. When it came to the third day, when being encouraged, I attempted to facilitate a group discussion during the practice session at the end of the training course."
Since then, Ms Lanh has become more and more pro-active and confident. She is now one of core farmers. Ms Lanh proudly said "Now, I become confident to facilitate cooperative members about using GALS tools such as Vision Journey, Gender Balance Tree, Gender Challenge Action Tree etc. I am now a confident woman when standing in front of a crowd".
Photo/story credit: Mr Tran Van Ranh, member of Hoa Binh cooperative, Gia Hoa 2 Commune, My Xuyen District, Soc Trang province.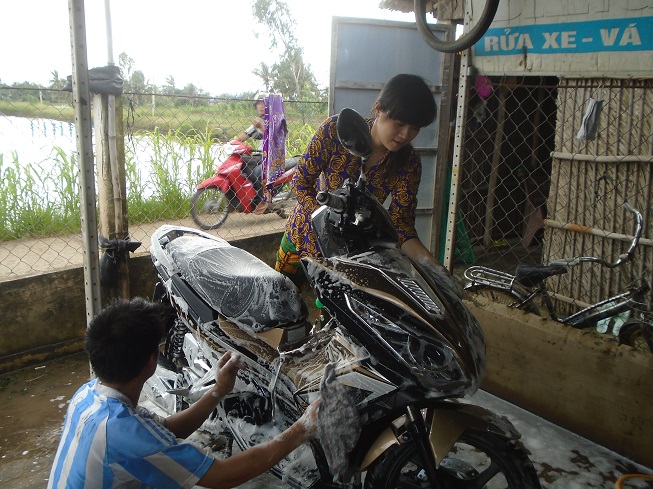 This is Ms Le Thi Hong Nhien and her husband. They are cleaning a guest's motorcycle at their family motorcycle wash shop.
Ms Nhien is a member of Hoa De cooperative, Hoa Tu 1 Commune, My Xuyen District, Soc Trang province. Upon exposure to GALS tools such as Gender Diamond, Vision Journey, Ms Nhien becomes interested and actively participates in cooperative's activities. She is now a cooperative's secretary.
Nhien shared: "My husband is a mechanic; he is very busy and does not have time to rest. I am his wife so I feel bad for him. But since I was busy with housework so I didn't think to share it with him. Ever since I participated in the cooperative's meetings and knew about GALS tools, I have understood that both husband and wife need to share the workload to each other. Now when I have free time, I would help out at his shop by cleaning vehicles and pumping flat tires. When he is free, he supports me to take care of our child. I am glad for that because our work is accelerated. Sometimes we would joke around our work we both feel happy".
Photo/story credit: Ms Luong Thi Oanh, member of Hoa De cooperative, Hoa Tu 1 Commune, My Xuyen District, Soc Trang province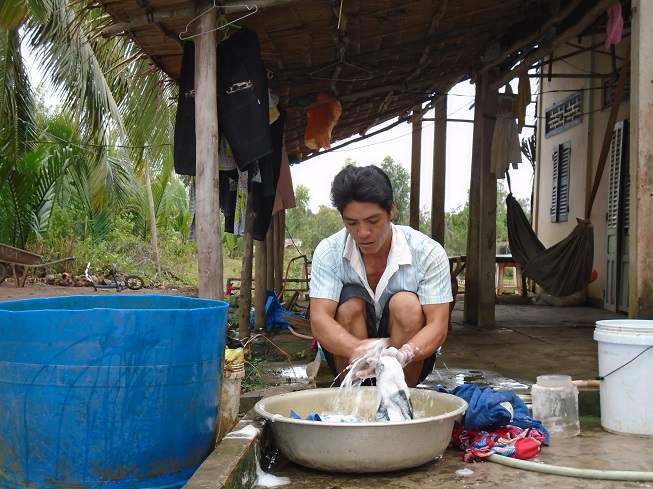 This is Mr Nguyen Van Cong. He is a member of Thanh Dat cooperative, Hoa Truc hamlet, Hoa Tu 1 commune, My Xuyen district, Soc Trang Province. "In the past, when I returned home from work, I never did any house work to support my wife. After participating in project activities and learning about GALS tools such as the Gender Balance Tree, I realized how hard my wife had to work. Therefore, I started to support my wife to clean the house, do the laundry and dishes as well as prepare meals. When my wife picks up our kids from school, I stay at home to do the laundry. At first, I was quite hesitant because being afraid that others would laugh when seeing this scene. However, after doing several times I stopped being shy. There are so much housework so I should share it with my wife as much as possible. I think both husband and wife should share the workload. Even it could be tiring but we would both feel happy" said Mr Cong.
Photo/story credit: Ms Nguyen Thi Dung, member of Thanh Dat cooperative, Hoa Tu 1 Commune, My Xuyen District, Soc Trang province.
---
[1]GALS (Gender Action Learning System) is a community-led empowerment methodology that aims to give women as well as men more control over their lives, catalyse and support a sustainable movement for gender justice. This helps women and men to develop their individual visions for change, with achievable targets and road maps to move towards these visions, based on analysis of their current situation, past and ongoing achievements and opportunities/strengths and challenges. They continually review and track their own progress as a process of reflexive learning based on their own planning needs.
A key focus is analysing and breaking through gender based barriers at individual level and within the family and personal networks as challenges that prevent men as well as women from achieving their vision. People also identify other people in their own families and support networks with whom they have a self-interest in sharing the gender messages and GALS methodology - either through love and a wish to help people who help them, or because without changing these people they cannot themselves advance. The individual visions, plans, achievements and challenges together with peer sharing achievements are aggregated and analysed collectively within communities, groups, organisations and institutions to improve decision making at all levels.
This methodology focuses on using diagram tools. Together with distinctive participatory principles, this enables inclusion of very poor people as informed and respected partners in participatory planning processes, even if they have not had the opportunity to learn to read and write. The methodology also develops the conceptual, analytical, listening and communication skills of powerful individuals, institutions and policy-makers – as well as enabling their own personal planning.
ICAFIS - GRAISEA Soc Trang, Viet Nam