Source: snvworld.org
Author : Mr. Jake Brunner - Programme Coordinator ( E-mail: jake.brunner@iucn.org)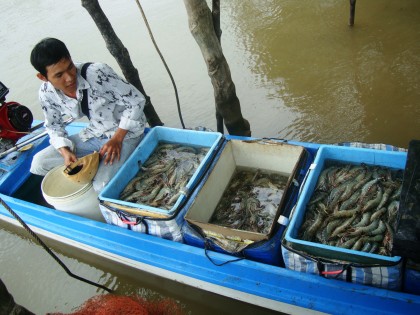 Ca Mau Province is home to half of Vietnam's mangroves. It is also home to half of its shrimp farming area and one-quarter of its shrimp production. One of its leading exports, shrimp earned Vietnam US$2 billion during the first nine months of 2013. Shrimp farming is also the leading cause of mangrove loss in Vietnam, which has a long, low lying, densely populated coastline that is very vulnerable to tropical storms and sea level rise. The sustainability of the shrimp sector and the conservation of mangroves are therefore both national priorities.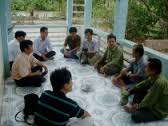 To address these often competing priorities, IUCN and SNV, the Netherlands Development Organization, are implementing a project in Ngoc Hien District in Ca Mau to help shrimp farmers become certified using an organic label. This 4-year project, which is funded by the German Federal Ministry of the Environment, Nature Conservation, and Nuclear Safety (BMU), aims to move the shrimp farming sector to more sustainable footing while increasing coastal resilience to climate change.
The project is working in the 12,500-hectare Nhung Mien Forest Management Unit (FMU), which is managed by the Forest Management Board (FMB) and home to about 2,600 shrimp farmers. Farmers here use an integrated mangrove-shrimp model in which each household is allocated 3-5 hectares, of which 60% should be mangrove-covered according to a national regulation issued in 2006. In the extensive mangrove-shrimp farming system, ponds are connected via a system of waterways and sluice gates. Every 15 days, during spring tide, the gate is opened and fish, post-larvae, and juvenile shrimp are recruited; during the subsequent low tide, the gate is opened for 4-5 nights and shrimp are collected using a bag net.
This model is characterized by:
Low stocking densities and yields: average production is about 300 kg shrimp/hectare vs. 10,000 kg/hectare in intensive shrimp farms.
Diverse production (polyculture): wild shrimp, crab, fish, cockles, and oysters contribute up to 30% of farmer's income while representing only 13% of farmer's costs.
Low inputs: the only input is post-larvae bought from local hatcheries; no chemicals, artificial feed, or antibiotics are used.
Low risk of crop failure: the shrimp farms in Ngoc Hien were untouched by the diseases that in 2012 devastated shrimp crops elsewhere in the Mekong Delta.
Not only is this model resilient to market shocks and disease but it is also stable and profitable. Research carried out by GIZ in cooperation with SNV in 2013 showed that the net income from integrated mangrove-shrimp farming in Ngoc Hien was US$2,142/hectare/year, which is twice that of traditional shrimp culture or rice-shrimp without mangroves (US$1,100-US$1,300/ha/year).
Because of the highly natural nature of the farming system, the shrimp can be certified as organic, which allows them to both meet the growing international demand for improved environmental aquaculture practices and concerns over food safety, and receive a premium price for their product.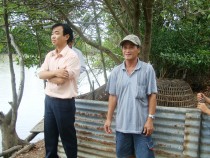 The IUCN/SNV project builds on a 10-year Swiss-funded project that supported organic certification in Ngoc Hien and Nam Can Districts. These farmers were audited by IMO, the Institute for Marketecology, using the Naturland Standards for Organic Aquaculture to export to Coop, the second largest supermarket chain in Switzerland. The Ca Mau provincial government now wants to scale up organic certification to 20,000 hectares of integrated mangrove-shrimp farms by 2020. The vision is to establish an "organic coast" that both produces high-value certified shrimp and protects against rising sea level and potentially stronger storms. Integrated mangrove-shrimp farming is therefore a form of ecosystem-based adaptation to climate change that offers multiple additional benefits, notably as spawning, nursery, and shelter for commercially valuable marine life.
However, the Swiss project, which ended in 2012, faced several problems. First, the 5%-6% premium on the market price was low and often paid 3-4 months late, after the shrimp were shipped to Europe. In addition, the distribution of the premium from the processor, to the collectors, to the farmers was not transparent. Second, the processor only bought small sizes of shrimp (40 pieces/kg), despite that fact that larger sizes (<20 pieces/kg) fetch a much higher price, because the Coop only sold smaller sized shrimp. The remaining shrimp were sold at uncertified prices. There were also cases of collectors mixing uncertified and certified shrimp to increase their income. As a result, farmers started to question the economic value of certification and enrollment, which started with 143 in 2002, declined from a peak of 854 in 2006 to 784 in 2009.
The IUCN/SNV project addresses these weaknesses in several ways.
In March 2013, SNV negotiated an agreement with Ca Mau-based Minh Phu, the world's second largest seafood processor by shrimp export value that commits it to buying all the certified organic shrimp (not just the small sizes) that farmers can produce at a 10% price premium. (The current farm gate price for shrimp sized 20 pieces/kg is VND300,000/kg or US$15/kg.) Minh Phu will also pay for the annual audit and the internal control system (ICS) that ensures chain of custody from the farm to the processor.
In July 2013, SNV ran a training course for 1,008 shrimp farmers of which 783 agreed to apply for certification. Most of the remaining 225 were not eligible to apply because the mangrove cover on their farms was lower than the required standard.
In order to increase farmer-to-farmer learning and encourage compliance through peer pressure, 27 groups were established, each with 30-40 farmers and an elected leader. The annual audits will be carried out on a random sample of all the farmers enrolled in the program.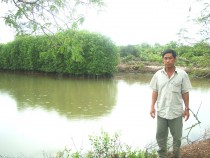 To ensure that as many farmers as possible have the opportunity to become certified, the project will initially support replanting efforts by 42 of the 225 families with mangrove cover close to the required threshold. There are hundreds of hectares of degraded mangroves that need to be restored through replanting and protection and the project will co-finance planting in these areas to help the remaining 1,800 households in Nhung Mien to become certified.
To ensure compliance with national regulations, organic shrimp certification requires that at least 50% of the farm consist of mangroves and requires regular third-party audits to ensure compliance with this standard. Each year, IMO will audit the certified farms and between audits the ICS team will monitor compliance. Ground inspections will be supplemented by satellite-based analysis. An analysis of a SPOT 5 image taken in February 2013 showed that Nhung Mien had 40% mangrove cover, which is very close to what the FMB had reported.
This approach to mangrove conservation, which provides a direct financial incentive to farmers to plant and conserve mangroves, differs in several important ways from other PES schemes in Vietnam. These schemes fall under Decree 99, which was issued in 2010 and established a legal framework for PES including "the provision of spawning grounds, sources of feeds and natural seeds, and use of water from forest for aquaculture." The decree established the Forest Protection and Development Fund (FPDF) at the central and provincial levels to channel PES payments from buyer to seller with the provincial FPDF retaining a 10% management fee.
In Lam Dong and Son La Provinces, where the decree has been applied, watershed protection is by far the most important service. In Lam Dong, the two main buyers are the Da Nhim and Dai Ninh hydropower plants, which are charged VND20/KWh of power generated, and the SAWACO water utility in HCMC, which is charged VND40/m3 of water supplied to its customers. These payments are made to the FPDF, which is responsible for distributing them to the forest owners.
In 2013, a CIFOR review of the PES experience in Vietnam raised questions about the effectiveness of this approach.
Three concerns emerged:
Low willingness to pay on the part of the buyers: most of the buyers are state-owned enterprises that were instructed to make PES payments, which are passed on to consumers. Private hydropower companies, however, which had already negotiated power purchase contracts with EVN, the monopoly electricity utility, are unable to pass the extra cost on to consumers and resisted paying.
Potentially low compliance because of the lack of independent monitoring: forest cover monitoring is though a self-reporting process, raising concerns about conflicts of interest; despite the availability of cloud-free satellite images, no satellite-based forest cover change analysis has been conducted.
Doubts about the permanence of forest conservation: PES pays farmers not to cut trees, but as new market opportunities emerge (e.g., cassava, coffee cultivation), the opportunity cost of conservation rises, potentially to the point where the necessary payment becomes unaffordable.


The IUCN/SNV project in Ngoc Hien addresses these concerns as follows:
In terms of willingness to pay, the ultimate buyer is the international consumer. Minh Phu is the intermediate buyer. It has identified certified organic shrimp as a strategic sector in its principal markets in Europe, Japan, South Korea, and US. Willingness to pay is therefore rated as high.
In terms of compliance, there are multiple layers: IMO will inspect a random sample of farms to ensure compliance with the 50% mangrove cover standard; the ICS team will ensure that non-certified shrimp do not enter the supply chain; and ground inspections will be complemented by satellite-based analyses at the start and end of project. Compliance is therefore rated as high.
In terms of permanence, organic certification requires significant up-front investments in documentation and infrastructure (e.g., mangrove planting, hygienic toilets). Once these are in place the additional cost of certification is modest. Assuming that farmers can sell all their shrimp (whether at a premium price or not), there will be an incentive to stay certified. Permanence is therefore rated as medium because of the inherent uncertainties in international consumer demand.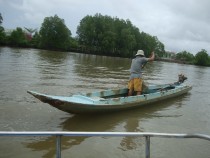 In theory then, certification can be used to directly link shrimp production and mangrove conservation. Certification focuses on the driver of mangrove loss—shrimp farming—rather than mangrove conservation per se. By increasing the profitability of integrated mangrove-shrimp farming using a market-based system that incorporates strict third-party monitoring, the project aims to permanently reduce pressure on the mangroves.
Whether or not certified organic shrimp farming results in permanent economic and environmental improvements remains to be seen. Already barriers have emerged. For example, to become certified, farmers have to install hygienic toilets at a cost of VND4,000,000 (US$200) each. The project will contribute to the cost of the toilet kits. Nevertheless, with strong business and provincial government support, there are grounds to believe that the project will deliver economic and environmental benefits that, because the project aims to change the underlying business model, will persist after the project ends.
Discussions by the Ministry of Agriculture and Rural Development (MARD) suggest that while officials understand the potential conservation benefits of certification, they are reluctant to consider it a "true" PES because the funds pass do not through the FPDF. (While Decree 99 does not require that funds pass through the FPDF, it is the preferred option.) However, in Ngoc Hien, in addition to payments to farmers, Minh Phu has agreed to pay the FMB VND1,500/kg (US$0.075/kg) of certified organic shrimp that they collect. This payment will contribute directly to state management operations. More challenging, this approach implies a shift in the role of government from running PES to facilitating PES in cooperation with business and ensuring that the interests of smallholder farmers are respected. This represents a significant shift and one that may be hard to achieve, at least in the near term.
Looking ahead, certification may become a requirement for entry to international markets, just as the EU's 2012 timber regulation requires that any wooden products sold in the EU be manufactured out of legal wood (the Lacey Act amendment makes a similar requirement for wooden goods sold in the US.) There is room for optimism. The economic case for integrated mangrove-shrimp farming is strong. More broadly, Vietnam is undergoing its second economic revolution after the doi moi reforms of the mid-1980s. The new paradigm emphasizes economic efficiency, natural resource conservation, and higher value-added products. While the government is convinced of the case for green growth, it needs tools, such as certification, to deliver it.
REFERENCES
Government Decree No 99/2010/NĐ-CP on the Policy for Payment for Forest Environmental Services, 2010.
Status of Small-scale Environmentally-friendly Shrimp Production in Ca Mau, June 2013, GIZ.
Pham TT, Bennet K, Vu TP, Brunner J, Le ND, and Nguyen DT (2013) Payments for Forest Environmental Services in Vietnam: from Policy to Practice. Occasional Paper 93. Bogor, Indonesia: CIFOR.
Tran Thi Phung Ha, Han van Dijk, and Leontine Visser (2013) Impacts of Changes in Mangrove Forest Management Practices on Forest Accessibility and Livelihood: a Case Study in Mangrove-shrimp Farming