Recently, ICAFIS has teamed up with OXFAM for the implementation of the project "Gender Transformative & Responsible Agribusiness Investments in South East Asia (GRAISEA). In Vietnam, the project is designed to empower women in the shrimp value chain through promotion and application of Corporate Social Responsibilities (CSR) framework and practices of multi-stakeholders, as well as demonstrated adoption of responsible shrimp aquaculture practices (ASC, VietGAP, SAIP - ASEAN and particularly PSIA/GALS) in term of economic development of households and under the context of climate change.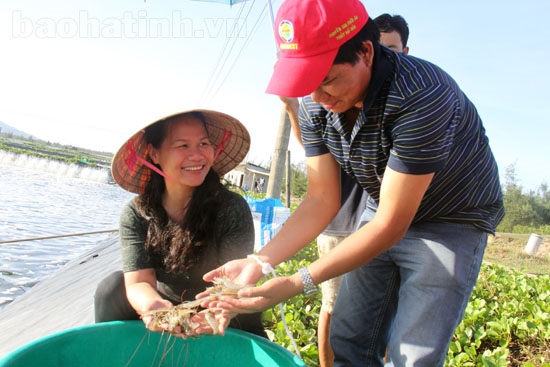 Soc Trang province in the Mekong Delta, has been identified as the project location as this is where the shrimp farming sector is most developed. ICAFIS will be the coordinating body of the project and facilitate active involvement of other parties of the project. DARD and VINAFIS Soc Trang will support activities in the field under collaboration with local Women Unions and Farmer Association systems.
By using the multi-stakeholders approach in Monitoring Evaluation Learning (MEL), the benefits of this project will involve management of project design, implementation and MEL including a baseline survey and midterm review. The project will develop a M&E tool and criteria under active participation and discussion between stakeholders.
The project can be summarized by the target population below:
- 14 collaborative shrimp producer groups in Soc Trang
- 5-10 processors/traders/exporters in Soc Trang
- Surrounding communities of shrimp farms and processing plants
- 10-12 collectors/self-employed traders (middlemen, collectors)
- 2-3 feed companies in the Mekong Delta
- Vietnam government : MARD, D-FISH, Municipal People's Committees of Soctrang, District and Commune People's Committees, MONRE
- Line agencies: DARD of Soctrang province, Agriculture Extension center of DARD, DONRE,
- Civil society and mass organizations: womens unions, father land front, farmer unions (provincial, district and commune level), VINAFIS, local fisheries societies, VASEP, VBCSD, VWEC, CEWG of VUFO.
- Financial institutions: the State bank, provincial Social Policies Bank and Agriculture and Rural Development Bank, who administer credit scheme for aquaculture development do not have adaquate understanding or expertise on the value chain approach.
Project Overview
Project title: Gender Transformative & Responsible Agribusiness Investments in South East Asia (GRAISEA)
Support by: SWEDEN, OXFAM
Modality: Shrimp aquaculture
Implementing partner: ICAFIS, MCD, CECEM
Project duration: 2015-2018
Project objectives:
- Community farmers and farmer groups will be able to act on community voiced solutions in which the participation of women and small scale producers are requested
- Actors in the value chain are aware of and apply responsible practices and relevant standards for shrimp production and trade
- Actors promote and use ASEAN-GAP standards, adopted by ASEAN-AEC
- CSR/PS framework is demonstrated by target companies with the best interests of the communities in mind and through government support
For more information, please contact Mr. Dinh Xuan Lap, program coordinator of the project: Mobile: 0985024307 Skype:dinh.lap1|email: lap.dinhxuan@icafis.vn