Over the past years, the Government of Vietnam has focused on developing the Agriculture and Rural Development sector, having issued a number of legal documents. Thanks to that, the activities of the Fisheries Cooperative are also promoted.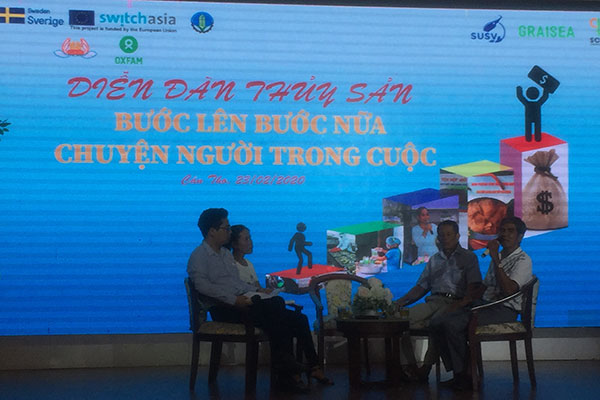 Capital - The vital factor for the operation of the cooperative
On November 20, 2012, the National Assembly of the Socialist Republic of Vietnam Session XIII, the 4 session passed the Law on Cooperatives. On June 9, 2015, the Government issued Decree No. 55/2015 / ND-CP on credit policies for agricultural and rural development. On September 7, 2018, the Government issued Decree No. 116/2018 / ND-CP amending and supplementing a number of articles of Decree No. 55/2015 / ND-CP dated June 9, 2015 of the Government on the Credit Policy for agricultural and rural development. Accordingly, the provisions:
Credit policies in service of agricultural and rural development include a number of State policies and measures to create conditions for organizations and individuals to borrow capital to develop agriculture and rural areas; at the same time, encourage credit institutions to promote lending in this field, in order to contribute to restructuring the agriculture sector in association with building new rural areas and gradually improving people's lives.
Regarding the State support policy, the Government has a policy to encourage lending to agriculture and rural areas through capital support, use of monetary policy management tools, and policies risk management in agriculture, rural areas and other policies from time to time.
Capital sources of credit institutions in the field of agriculture and rural areas include: (1) Own capital and mobilization of credit institutions as prescribed; (2) Loans, Capital financed, entrusted by domestic and foreign organizations and individuals; (3) capital is entrusted by Government lending for agriculture and rural areas.
Households / sub-Cooperative / Other organizations without legal status when participating in the loan relationship, members of Households / sub-Cooperatives / Other organizations also without legal status are the subject to establish, perform loan transactions or authorize representatives to participate in establishment, implementation of loan transactions.
Households /sub-cooperative / other organizations without legal status include: (1) Households residing in rural areas or engaged in agricultural production and business activities; (2) Business households operating in rural areas; (3) Sub-Cooperative in rural areas or engaged in agricultural production and business activities; (4) Private enterprises engaged in production and business activities in rural areas; (5) Private enterprises provide agricultural inputs for agricultural production and private enterprises produce, purchase, process and consume agricultural products and by-products.
Fisheries Forum " Take a step forward - stories of insiders"
The seafood forum was organized by the International Coollaborating Centre for Aquaculture and Fisheries Sustainability (ICAFIS) in Can Tho on February 23, 2020. At the Forum, the delegates agreed that: Capital is the biggest challenge for production activities of the cooperative. Representatives of the cooperatives in Tra Vinh and Soc Trang provinces said: Because the investment capital for production and business activities is very large, the seafood households as well as the Cooperatives are always concerned with questions. "Money flowing into the sea, can it be regained?", Raising investment capital is effective ...
At Thanh Cong Cooperative (Tra Vinh province), in 2005, there were 91 households, the total capital mobilized 700 million; Up to now, the number of members has increased to 278 (tripled) with a total raised capital of over VND 4.2 billion (6 times increase). Thanh Cong Cooperative said that it only takes internal resources, and does not need to apply external borrowing. The main solution of the cooperative is: Mobilizing local resources for all production and business activities.

However, for Toan Thang Cooperative (Soc Trang Province), access to capital is facing many difficulties. Therefore, Toan Thang decided to promote local capital, along with mobilizing external support. Also in Soc Trang province, Hoa De Cooperative is mobilizing capital from cooperative members (profit is divided every 3 months). Currently, Hoa De Cooperative has mobilized 50 shareholders out of 65 members of the cooperative (accounting for nearly 80%). With such a high rate, it can be seen that Hoa De has achieved great success in mobilizing local capital.
Value-added products help stabilize and develop cooperatives
Currently, ICAFIS is implementing 03 projects: (1) SusV Project - Sustainable and equitable shrimp production and value chain development in Vietnam ; (2) SCBV - Inclusive and Sustainable Clam and Bamboo Value Chain Development in Vietnam; (3) GRAISEA Project - Gender Transformative and Responsible Agribusiness Investments in South-East Asia. These projects are funded by the European Union, the Embassy of Sweden and OXFAM in Vietnam.
In the framework of implementing programs of 03 projects of SusV, SCBV and GRAISEA, ICAFIS has cooperated with Department of Agriculture and Rural Development in 06 provinces in the Mekong Delta (including Soc Trang, Bac Lieu, Ca Mau, Tra Vinh, Tien Giang and Ben Tre) support the improvement of production capacity, value chain linkages and market connections for nearly 70 cooperatives / cooperative groups. As a result, significant achievements have been made, contributing to raising incomes for fishery households, stabilizing livelihoods, increasing product value, raising brand name and image of Vietnamese seafood products on the domestic and international market. Besides, to achieve achievements and successes, it is also necessary to mention the process of efforts and boldly "daring to think and dare to do" of the cooperatives.
At the Forum, Thanh Dat Cooperative (Bac Lieu Province) shared that the Cooperative currently has 16 members, mainly exploiting the strength of shrimp farming, the product has exported in Cambodia. For Hung Phu Cooperative (Soc Trang province), focusing on developing 02 value-added products: the first is "one-wind shrimp" which attracts much attention of consumers and large consuming systems for Vietnamese seafood products; The second is the business model "Farm Trip - Farmstay". Talking about the professionalism in producing and creating product images, Bac Lieu High-Tech Cooperative was highly appreciated by participants of the Forum. One of the cooperative's favorite products is the "shrimp rice paper". Products were also brought to the introduction at the Forum.
Delegates attending the Fisheries Forum exchanged very enthusiastically about the topic "Value-added products help stabilize and develop cooperatives". Currently, Vietnam is exporting Pangasius's skin to Taiwan, Japan and Europe markets. The fish skin by-products were then manufactured became collagen by this importing countries for sale at very high prices (about VND 2-4 million per box). Meanwhile, Pangasius skin only cost VND 1,000 / kg, later increased to VND 4,000 / kg, then VND 20,000 / kg. But even after such a 20-fold increase, fish-skin by-products are still the subject of untapped use to produce value-added products at high prices, welcomed by the market. Producing value-added products (especially from aquatic by-products) is the issue that Vietnam needs to consider.
Cooperatives perform chain linkages and market access
According to report The Summary of 15 years of implementation of the Resolution of the 5th plenum of the Party Central Committee, term IX, on continuing to renovate, develop and improve collective economic efficiency (2004-2019): Collective economic area with focus on cooperative is recovering and developing quite stably. Cooperative economy flourishes step by step. Specifically: Regarding the Cooperation Group, the whole country had 101,400 thousand Cooperation Groups; in which 58,500 Cooperative Group in the field of Agriculture (accounting for 57.7%). Regarding cooperatives, nationwide there were 22,861 cooperatives; in which 13,856 agricultural cooperatives (accounting for 60.6%). Regarding Cooperatives Union, the whole country has 74 Cooperatives Union; in which, the Cooperatives Union operates mainly in the field of Agriculture 39/74 Cooperatives Union (accounting for 52.7%).
The number of cooperatives increases year by year, developing fairly evenly across regions, the quality of activities is raised. Cooperatives have gradually operated in a right way, focusing more and more on supporting member households' economy through providing services or jobs to members, especially agricultural and fishery cooperatives. The scale, capital and operational fields of the cooperative were expanded. Many cooperatives have the size of communes and districts. Cooperative management qualifications have been improved. Some cooperatives have a team of enthusiastic, experienced and sensitive officials with market mechanisms, bravely applying science and technology to production and business. Through the cooperative, the member households have conditions to participate and be supported by the State, of socio-economic development programs and projects in the locality.
Recently, the number of agricultural and fishery cooperatives carrying out value chain linkages has been increasing, and is becoming the optimal mode of production for sustainable development. The cooperative has organized production associated with the value chain, applied high technology, standards of food hygiene and safety; many cooperatives associate with supermarkets and large enterprises to expand consumption markets, contributing to improving product quality and competitiveness. Some cooperatives have been actively researching and expanding export markets. People participate in the cooperative on a voluntary basis, contribute capital, and take responsibility for the cooperative's activities. Many cooperatives have a range of activities throughout the commune, even the whole district. The number of cooperatives applying new and modern science and technology in production and business, engaging in hi-tech agricultural production is increasing, especially, the agricultural cooperatives have operated in association with with key products of the region, implementing chain linkage, many cooperatives associate with supermarkets and large enterprises to expand consumption markets, contributing to improving product quality and competitiveness.
At the Fisheries Forum, Tai Thinh Phat Cooperative (Ca Mau Province), Hoa De Cooperative (Soc Trang Province), Cai Bat Cooperative (Ca Mau Province) shared the advantages and disadvantages in the process of chain linkage and market access. Hoa De Cooperative said that since 2009, it has started to guide cooperative members to study science and technology (firstly with rice); After turning to making tilapia rolls ... Cai Bat Cooperative shared the road to success; Cooperatives said: Consumption of consumers is the clearest evidence for the success of the cooperative. Tai Thinh Phat affirms: Do standard, do well, the customer will choose you.
In the coming time, ICAFIS and 03 Projects (SusV, SCBV, GRAISEA) will continue to accompany with cooperatives to replicate achievements, enhance capacity for Vietnam Fisheries Cooperatives.
Ngoc Thuy – FICen