(TBKTSG Online) For a long time, the one of shrimp farmers' difficulties in all provinces in general and Bac Lieu specifically is not_having collateral to get loans for new crops. Now, just having joined linkages with companies toward sustainable shrimp farming, they will have access to loans.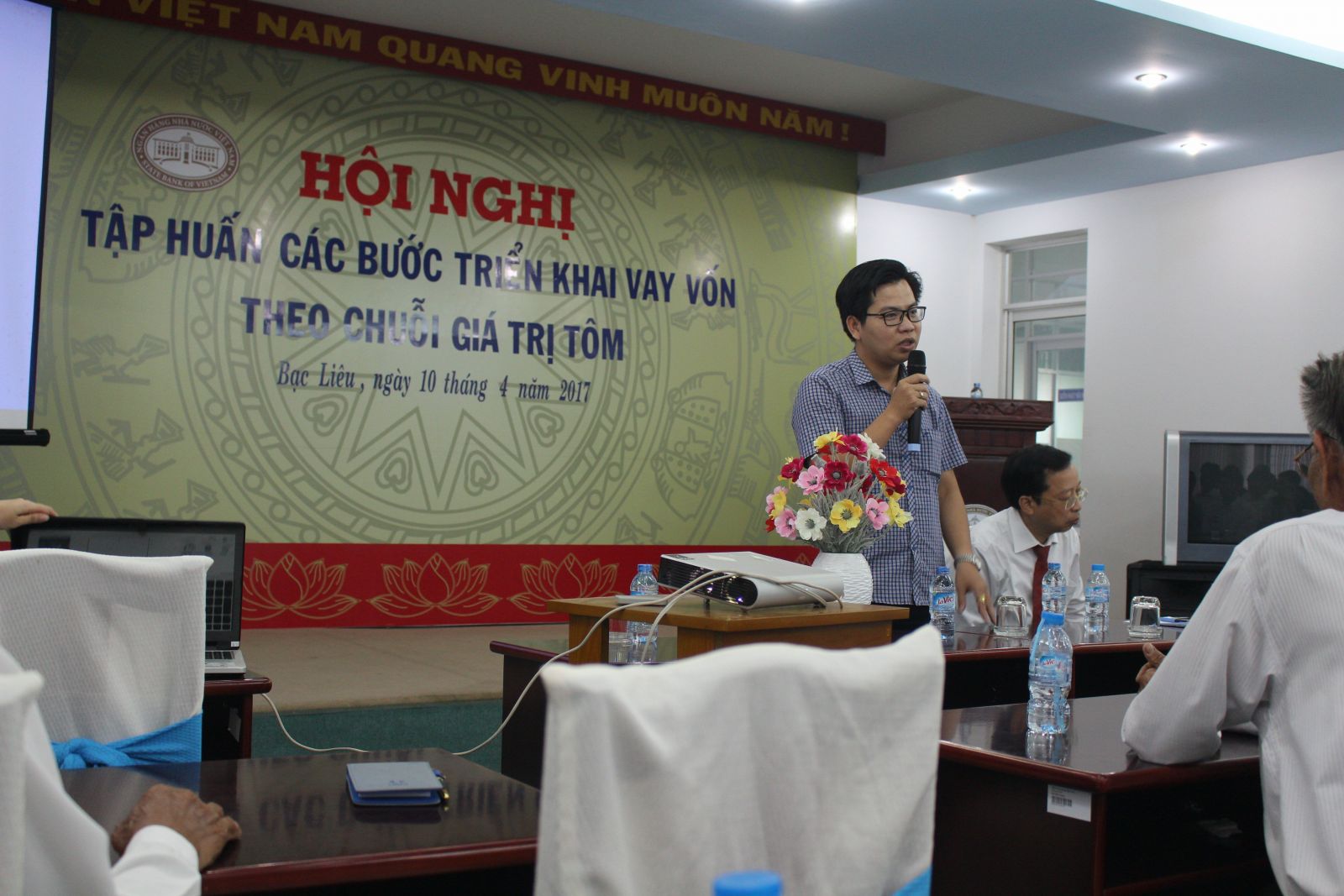 According to Mr. Dinh Xuan Lap – vice Director of International Collaborating Center for Aquaculture and Fisheries Sustainability (ICAFIS), for a long time, finance source is always a big challenge for shrimp farmers. Shrimp farming has developed for 20 years but the lacking finance issue is mentioned every shrimp crop.
Hence, ICAFIS and Oxfam in Vietnam developed the project "Sustainable and Equitable Shrimp Production and Value Chain Development in Vietnam" which is funded by The European Union via The Switch Asia program, the project has facilitated the loan program for shrimp value chain. After a lot of efforts of all stakeholders, on Oct 14. Bac Lieu people' Committee issued an announcement No. 115/TB-UBND to facilitate the value chain loan program and will pilot on 3 companies in Bac Lieu province.
South Vina Shrimp, Au Vung and Thien Phu shrimp processing and exporting companies are having value chain linkages with shrimp farmer groups/cooperatives in Bac Lieu. With the announcement, Mr. Lap said that the remain issue is to create sustainable value chain linkages among farmers and companies, the loan access is not a barrier anymore.
According to ICAFIS, The loan need for shrimp farming is very big, Not only farmers and companies in Bac Lieu need loans but the ones in all provinces having shrimp production. Therefore, ICAFIS has planned to work with other provinces having strength on shrimp production such as Ca Mau, Soc Trang.
Now the white leg shrimp price is 205,000 VND/kg for the size 40 pieces/kg and 185,000 VND/kg for the size 50 pieces/kg at the shrimp purchasing agents, the price is higher than the price in past a few weeks. Not only in Bac Lieu province, the shrimp price in other provinces in Mekong delta such as Ca Mau, Soc Trang is also in the increasing trend, 2,000 – 3,000 VND higher than the price in past few weeks.
Because of the increasing trend of shrimp price, the shrimp farmers are enlarging their production area. Alarming that, some farmers use salt water to raise shrimp in fresh water aquaculture or rice cultivation areas. So the local authorities have to send an official a correspondence for more strict management.
In order to avoid lacking management for shrimp farming activates in fresh water areas, on Oct 16, Mistry of Agriculture and Rural Development (MARD) has a correspondence No. 6825/BNN-TCTS to Southern Provinces, especially Dong Thap province to warn that farmers raise brackish shrimp – mainly white leg shrimp in the fresh water/ rice cultivation areas, violated the provincial production plan. MARD requires the provinces having brackish water shrimp farming activities in fresh water areas to stop the production activity in next crops and not widen the production areas.
Ngoc Hung – The Saigon time