Globally, the industry 4.0 technologies have been applied widely in agriculture, fisheries in Israel, America, Europe, Japan, Korea, and Thailand…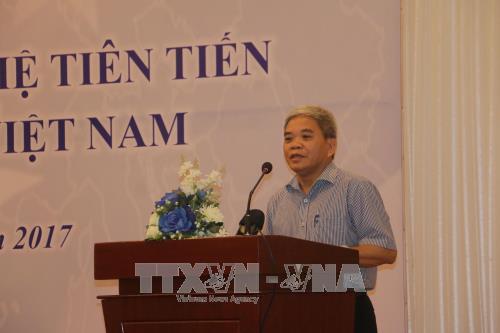 PhD. Pham Anh Tuan, vice chairman of Vietnam Fisheries Association spoke at the workshop (photo by Ngoc Thien – TTXVN news)
On November 22, in Can Tho city , the project management board of the project "Sustainable and Equitable Shrimp Production and Value Chain Development in Vietnam" funded by EU and co-implemented by Oxfam in Vietnam and International Collaborating Centre For Aquaculture and Fisheries Sustainability (ICAFIS) worked with WWF in Vietnam to organize the workshop "Applying Industry 4.0 Technologies in Aquaculture in Vietnam".
Participating in the workshop, there were representatives from Directorate of Fisheries, Vietnam Fisheries Association, provincial Agriculture and Rural Development department/fisheries department, research institutions and nearly 400 shrimp farmers and companies in Mekong delta who have applied industry 4.0 technologies or planned to apply in near future.
In the workshop, participants listened the representatives from companies, research institution who are pioneers in applying industry 4.0 technologies in aquaculture in Vietnam, they shared with participants the advanced technologies, process, solutions and their own experiences for more effective and sustainable aquaculture as well as to deal with the challenges, difficulties on technologies/environment. Applying those technologies also complies with the state shrimp industry development policies/strategy.

In opening speech, PhD. Pham Anh Tuan – vice chairman of Vietnam Fisheries Association said the workshop "applying industry 4.0 and advanced technologies in Vietnam Aquaculture" is firstly held in Vietnam, in order to share new/advanced technologies, which can be applied effectively in aquaculture now on.
Mr. Dinh Xuan Lap – Deputy Director of International Collaborating Center For Aquaculture and Fisheries Sustainability (ICAFIS) said that in the world, industry 4.0 technologies have been promoted in agriculture and aquaculture such as in Israel, America, Europe, Japan, South Korea, Taiwan, Thailand ... and create more value in production such as releasing labor, reducing Risks in production, cost savings, product traceability, adaptation to climate changes, environment...
In Vietnam, industry 4.0 technologies have been researched, applied and promoted in recent years and created significant value for the cultivation, husbandry and aquaculture sectors. Aquaculture contributes over 60% of the national aquaculture production, creating jobs for over 1 million laborers in the aquaculture sector.
In addition, aquaculture has also faced many challenges such as diseases, difficulties in control environmental issues, climate change effects, poor products traceability, and inputs loss in the process of shrimp farming… The workshop was an opportunity for shrimp farmers and companies to learn new and advanced technologies solutions and share experiences to improve the efficiency of the farming process, reducing disease, saving costs, improving product traceability.
Ngoc Thien/TTXVN