Source: undercurrentnews.com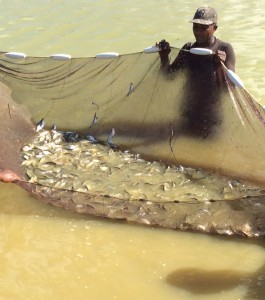 German entrepreneur Franz Fix and his fellow investors are betting on establishing a foothold in the US pangasius market with fish produced in the Western Hemisphere.
But they're not aiming to compete on volume with Vietnamese imports of frozen pangasius hypophthalmus, a type of Asian catfish also known as swai. Rather, they're aiming to hit a niche in the United States.
Fix is the general manager of Value Aquaculture, a land-based farm in the Dominican Republic that bills itself as "a sustainable alternative model to the large-scale industrial fish farms found in Southeast Asia."
The company -- which plans to sell its pangasius as Pure Caribbean Swai in the United States via its marketing partner Portland, Maine-based Sustainable Seafood Sales -- has sent small trial and sample shipments to the United States this year. But most of its fish so far has been sold locally.
Value Aquaculture — which was founded in 2011 and which Fix says is the only company raising pangasius for human consumption in the Western hemisphere — had its first commercial year in 2013, selling 25 metric tons of fish on the local market, bringing sales to more than $100,000. It sold 100 tons, or more than $400,000, this year and aims to sell 300t in 2015, which would bring sales to around $1.3m.
The farm and processing facilities can handle 1,500t per year at what Fix says is less dense farming than in Vietnam.
By 2016, the company may be able to get to 1,000 tons of production itself, but it would need investment of $1.5m to $2m if it wanted to reach the max capacity by 2017, Fix said.
However, the company would rather grow more slowly and finance the growth itself, he said. So far, it has funded itself through cash flow and an investment of $1m from Fix and the three other owners.
It has been selling the fish domestically for about $2 a pound whole and about $5 a pound filleted, Fix said. Although the company will have to wait to get feedback on what the US market is willing to pay, Fix thinks the fish could be sold there for about $3 a pound whole or $6 filleted.
The type of catfish raised by Value Aquaculture is called Pangasius hypophthalmus, which Sean Bergen, with Sustainable Seafood Sales, said makes up the the majority of pangasius imported into the United States from Asia. Pangasius bocourti, also known as basa, is slower growing and more expensive to raise, he said.
From January through October, the United States imported roughly 81,400 metric tons of both fresh and frozen pangasius fillets, according to National Marine Fisheries Service data, which do not specify which type of pangasius. The bulk of those fillets came frozen, at around 79,390t, while the volume of fresh fillets was about 2,030t.
With fresh swai flown from the Dominican Republic to Miami, Newark or Boston, Fix figures the company can have the fish from harvest to final client within 48-hours. Value Aquaculture can do fresh whole round, gutted or filleted fish, and it raises its pangasius without chemicals or antibiotics.
Value Aquaculture in the process of applying for 3-star Global Aquaculture Alliance Best Aquaculture Practices certification for its hatchery, farming and processing operations.
Having that certification, which will cost the company around $15,000, will help Value Aquaculture's marketing efforts in the United States, Fix said. He projects that if all goes well, the company could have the certification by spring 2015.