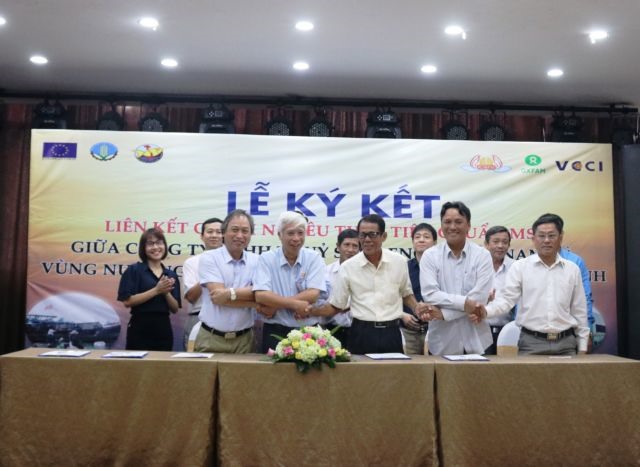 An MoU being signed in Tiền Giang Province on January 8 for building sustainable clam supply chains to benefit farmers in the Mekong Delta. — VNS Photo Ngọc Diệp
TIỀN GIANG — More than 20,000 clam farmers in Bến Tre, Tiền Giang and Trà Vinh are expected to benefit from a memorandum of understanding the three provinces signed with Lenger Seafoods Vietnam on Wednesday (Jan 8) to supply clams to the processor.
The MoU was signed with the Dutch company by the provinces' Fisheries Sub-departments, the International Collaborating Centre for Aquaculture and Fisheries Sustainability (ICAFIS), and representatives of clam farmers and co-operatives.
It was signed under the EU-funded "Inclusive and sustainable clam and bamboo value chains development in Việt Nam" project carried out by Oxfam, ICAFIS and the Việt Nam Chamber of Commerce and Industry in 2018-22.
All of them will work to establish closed clam supply chains encompassing all stages from breeding and harvesting to transporting and processing.
It could hold the key to sustainable clam production in the country and help prevent overexploitation.
Lê Thanh Lựu, director of ICAFIS, said clam farming has been developing in the Cửu Long (Mekong) Delta region for many years, mostly in Bến Tre, Tiền Giang and Trà Vinh provinces.
In 2009, Bến Tre Province's small-scale community-based clam fisheries met Marine Stewardship Council (MSC) standards.
Tiền Giang this year and Trà Vinh in 2021 are also expected to achieve MSC certification.
Nguyễn Hồ Nguyên, general director of Lenger, said his company mostly exports clam products to the US, Japan and the EU, and 80 per cent of all customers there demand MSC certification.
"Local clam breeders are able to reach consumers world-wide thanks to MSC certification."
The company has developed a distribution channel comprising supermarkets and restaurants across the country.
vietnamnews.vn