Thousands of trade visitors from across Vietnam and the regions attended the opening day of "Aquaculture Vietnam 2017" which clearly demonstrated the importance of Aquaculture industry in general and for the Vietnam market in particular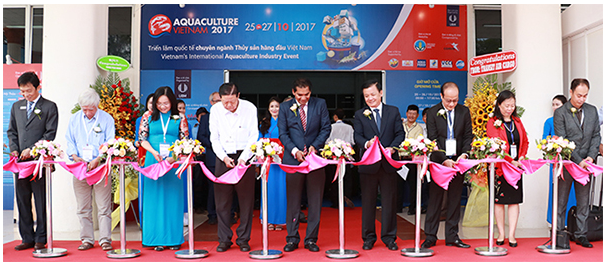 This very first International Event for Aquaculture sector in Mekong Delta organised by UBM has attracted over 70 exhibitors from over 13 countries. It is the right place for networking, learning and sharing experience.

The opening Ceremony of "Aquaculture Vietnam 2017 exhibition and conference" was presented by Mr Dao Anh Dung, Vice President of CanTho People's Committee with the attendance of our esteemed guests from VCCI Can Tho, VINAFIS, ICAFIS, Vietnam Pangasius Association (VINAPA), Embassies and members of media.

Aquaculture is essential development to make Vietnam meet the future demand for seafood products. The aquaculture sector plays an important role in the economy of Vietnam.

In July 2017, the total aquaculture and fishery production reached 4,007 million tons which is an increase of 4.4 percent compared to last year. This event, Aquaculture Vietnam 2017 is an important platform to hasten the industrialisation of aquaculture in Vietnam.

It is an effective avenue to communicate the different and latest technologies available for aquaculture production from both local and international perspective.

Following the opening ceremony, there was the 2nd International Aquaculture Conference with theme, "Aquaculture - Profitable and Sustainable Business", a unique program that provides valuable insights from scientific perspective and real field experiences to help your business grow, succeed and sustain.